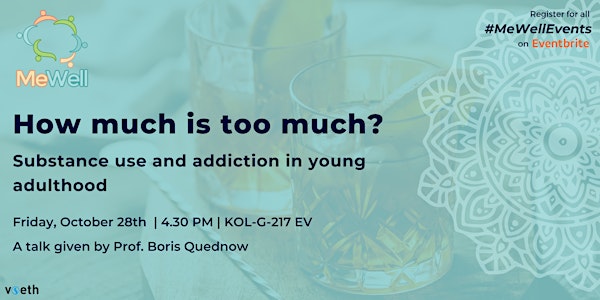 How much is too much? Substance use and addiction in young adulthood
A talk on the epidemiology of substance use in Switzerland and its long and short term effects on our bodies.
When and where
Location
KOL-G-217 EV 71 Rämistrasse 8006 Zürich Switzerland
About this event
Although substance use is ubiquitous in our society, the development of addiction is still often misunderstood as a simple weakness of character. This talk will give an overview about the epidemiology of substance use specifically during young adulthood as well as on the current scientific perspectives on addiction as a psychiatric disorder. Contemporary psychological and neurobiological models will be discussed and common diagnostic approaches presented. Finally, a discussion on the chances and risks of legalization of substance use will close the event.
We welcome all attendees to discuss their insights at the apéro after the talk.
About the Speaker
Boris B. Quednow studied psychology at the University of Bonn. He wrote his dissertation on the neurobiological consequences of Ecstasy (MDMA) use at the Ruhr-University of Bochum and worked as a research assistant at the Department of Psychiatry of the University of Bonn. At present, he is Associate Professor for Experimental and Clinical Pharmacopsychology at the Department for Psychiatry, Psychotherapy, and Psychosomatics of the Psychiatric University Hospital Zurich. His main research interests are the behavioral neurotoxicology and neuroplasticity of substance use as well as the neuropsychopharmacology of disturbed brain functions in psychiatric disorders, particularly in schizophrenia and addiction.