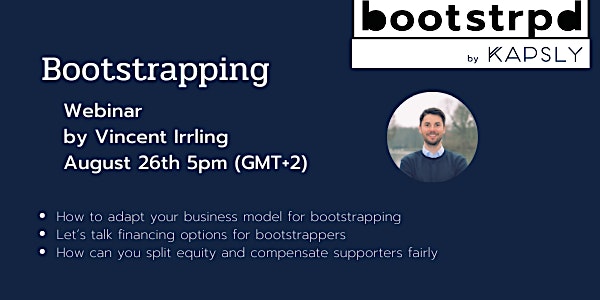 How to bootstrap on a low budget
Not getting funding tells nothing about your chances for success. So let's bootstrap your startup!
About this event
Almost every startup begins its journey with bootstrapping, intentionally or not. Before a startup becomes investable, the founders first invest a lot of time and, if necessary, money.
Basically, you should bootstrap as long as possible without spending a lot of your own money.
In this webinar, we want to discuss topics around bootstrapping and give you the tools to do it efficiently.
This event will be held in the form of a webinar on August 26th at 5 pm (GMT+2), where Vincent Irrling will share what he has learned about bootstrapping from his experience with his own startup KAPSLY.
Here's a brief outline of the event:
Introducing bootstrapping
How to adapt your business model for bootstrapping
Let's talk financing options for bootstrappers
How can you split equity and compensate supporters fairly
Q&A
Feel free to contact us if you have any questions.
We look forward to meeting you soon!