Dieses Event ist beendet.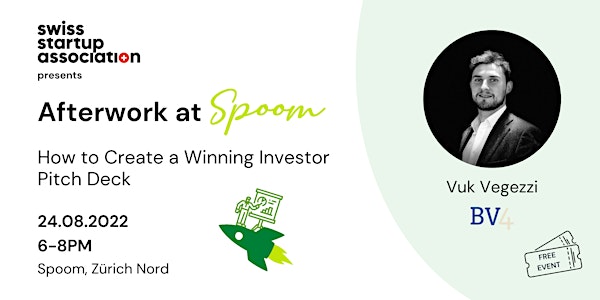 How to Create a Winning Pitch Deck
An event series that brings together founders and entrepreneurs to network, exchange knowledge and ideas and ask questions.
Zeit und Ort
Veranstaltungsort
Spoom Zürich Nord 77 Schärenmoosstrasse 8052 Zürich Switzerland
Karte und Wegbeschreibung
Zu diesem Event
The Afterwork at Spoom event series brings together founders and entrepreneurs to network, exchange knowledge and ideas, ask questions directed to the interview partners, and enjoy a laid-back evening in good company.
Each event has a different focus and interview partners for a Q&A session. The topic of this specific event is how to create a winning investor pitch deck with interview partner Vuk Vegezzi, a Senior Associate at BV4. He has led many valuation and due diligence projects for financial investors, and has successfully supported several startups in their fundraising rounds.
The event is free for all participants. Food and drinks will be served.
Details:
- Date: 24 August 2022
- Place: Spoom Zürich Nord (Schärenmoosstrasse 77, 8052 Zürich)
- Start: 18.00, end: 20.00
- Interview session starts at 18.30 (45 min)
- Attending interview partner for the Q&A session: Vuk Vegezzi (BV4)
Program:
-18.00 Arrival
-18.30 Interview Session
-19.15 Networking, Food & Drinks
Please note: We take photos and videos at our events. By attending our events, you grant the Swiss Startup Association all rights to use the images/video and any reproductions or adaptations of the material for public relations, marketing, and social media purposes.
Of course, you can let our photographers/film production team or other staff members know if you wish not to be filmed or have your picture taken. Please reach out to info@swissstartupassociation.ch for questions or concerns.