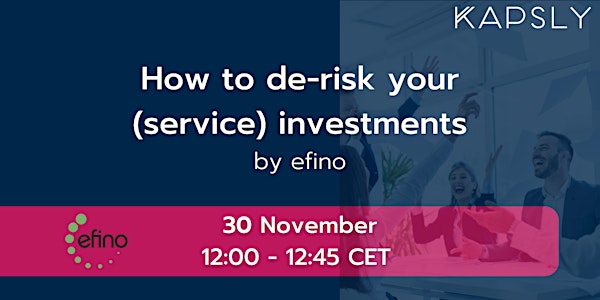 How to de-risk your (service) investments
Develop an investment strategy for your Venture Studio or as Business Angel. Learn why the right strategy is key for much better returns.
About this event
With startup investments the failures come before the success. That can be discouraging in the early stage of an investor's life. However, the chances to get one unicorn grow with the number of investments.
At KAPSLY we hear similar stories from our service partners and thought about how can we support agency owners who want to invest in startups (and by the way, now is the best time to be an investor). Our partner efino has offered to customize the workshop they usually run for business angels to the KAPSLY service partners.
In the workshop you will learn about:
The importance of building an investment strategy
The importance of building a portfolio
The importance of group investments
We will finish with a Q&A.
At KAPSLY we want to enable agency owners to invest their expertise and time into promissing startups. Our vision is to have service partners who have over 100 startups in their portfolio. Hence, we believe investment knowledge is very important and are happy to provide the workshop with the experts from efino.