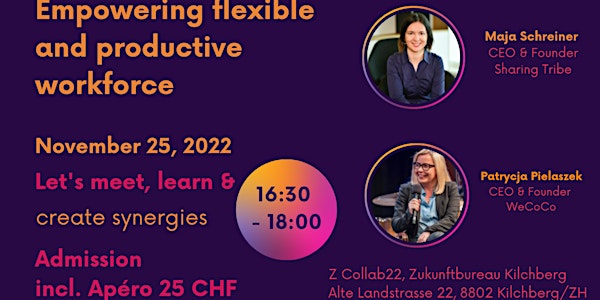 How to empower flexible and productive workforce
Lessons learned and best practices on how to build sustainable flexible and productive workforce
When and where
Location
Alte Landstrasse 22 22 Alte Landstrasse 8802 Kilchberg Switzerland
About this event
Our panel discussion will look at flexible and productive workforce, how to make them successful, and how to empower your employees to find their dream job. We will also look at digital transformation topics and change processes that help companies make better long-term decisions.
Patrycja and Maja will share their perspective on the endless opportunities but also challenges that they have mastered with their clients.
We will round the panel with a Q & A and also give our attendees an opportunity to introduce themselves.
From women to women Let's meet, learn and create synergies.
About the Speakers
Patrycja Pielaszek has nackground in communications and digital strategies, profound expertise in innovative and consumer-centric development. She is a forward-thinking innovation leader and serial entrepreneur with profound experience in discovering and unlocking growth opportunities across organisations and cultures. With her background in digital transformation, she's helping small and large companies get better at 21st century innovation. She is a founder and CEO of WeCoCo.
Maja Schreiner holds a Master of Advanced Studies in Management, Technology and Economics from ETH Zurich, one of Europe's leading universities, and a Master in Information Systems and Technologies. She began her career as a software developer and later moved into customer and business-facing positions. Her professional experience has taught her how to create connections based on trust so that we can build competent, committed and high-performing teams. She is a founder and CEO of Sharing Tribe.
We will also have a very special panel guest to be announced soon.
​About WeCoCo
WeCoCo is a community driven platform made by women for everyone because diversity rocks. They connect disruptors, action takers and change makers to foster innovation. WeCoCo is a catalyst for change to co-create a more inclusive future.
Check out their Instagram page and Website.
About Sharing Tribe
Sharing Tribe has been designed to help companies facing the problem of finding, recruiting, and retaining qualified candidates in tech roles, in order to assist them meet their Diversity & Inclusion goals and grow their revenue by up to 19%. We do that by enabling enterprises to hire in part-time, job-sharing and co-leadership working models, through the use of our community driven matchmaking platform. We connect people based on common and complementing skills.
The Company produces and provides the following products and services:• The all-in-one platform for education, matching, onboarding and coaching your employees and jobs
• Candidates and companies' learning and networking community
Check out their LinkedIn Community, LinkedIn company page and Website.