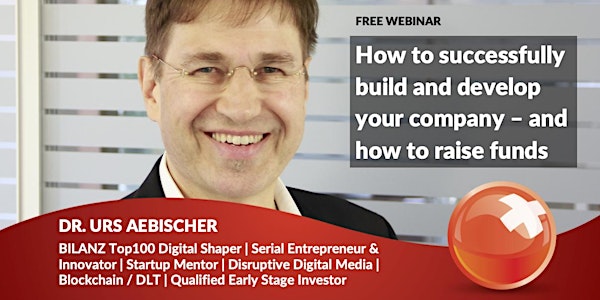 How to successfully build and develop a company - and how to raise funds
Location
Online Only
Webinar
8000 Zurich
Switzerland
Serial Digital Entrepreneur, Unicorn Co-Creator and Investor Dr. Urs Aebischer shares 25 years of experience.
About this event
HOW TO SUCCESSFULLY BUILD A COMPANY - HOW TO GET INVESTMENT READY AND HOW TO RAISE FUNDS
The event consists of 2 main parts
a) gain entrepreneurial insights and
b) networking break-out sessions.
This is a 100% online event. Participation by Zoom.
Participants can be located anywhere in the world!
This FREE event is sponsored by DISEO and SWISS INNOVATION PARTNERS and will feature DR. URS AEBISCHER a seasond entrepreneur from Crypto Valley, Switzerland
To participate use: https://zoom.us/j/7229773562 
Participants have the opportunity to receive a share of DISEO Decentralized Social Commerce Ecosystem (see below).
AGENDA
We discuss key topics which drive the success of businesses from incubation to growth and scale-up. Gain insights from seasoned entrepreneurs and how to apply lessons learnt to your own company.
During this webinar you will learn the essence of formation, development and scaling including how to get funded with the necessary steps to take so that your company's legal structure is attractive for investments.
Every event is different as we discuss and provide insights to solve current challenges of entrepreneurs they brought to the webinar.
Come with your questions and directly benefit from instant advise to your current challenges. Get ready to start your own enterprise or Be excited to meet other enterpreneurs who can help you to scale. Meet investors who can discover you and your idea to be funded!
The event is structured as follows:
Introduction = Introduce yourself (voluntarily)
Topic of the day / challenges as suggested by attendees
Startup presentation (attendees can apply spontaneously)
Entrepreneurs Q&A Session = Answering of questions of attending entrepreneurs related to current challenges with their business
Break-out sessions = Group discussions related to current challenges with your company and how other attendees can support you.
PURPOSE OF THIS EVENT
Bring the challenges that you currently face, discuss it with other attending entrepreneurs and learn from their experience.
We particularly address how blockchain is driving innovation, but not limited to it. Fundraising is a very important topic among others.
You may apply for coaching or to present you company to our investors.
ABOUT THE HOST
Dr. Urs Aebischer is a serial digital entrepreneur since 1998 who gained experience in all aspects of starting and growing companies. He shares this experience with the attendees and answers questions related to their current entrepreneurial challenges. Urs co-created his first unicorn in 2000 and is now about to create his second one.
Urs has a passion to share his experience with young talented entrepreneurs and executives to make their vision a reality. He started this event series in January 2018 with monthly webinars on entrepreneurial topics.
Urs has earned a PhD in physics from ETH (Swiss Federal Insitute of Technology) and startet his career as management consultant in telecommunications. His frist startup was about VoIP, then moved to mobile marketing, social media and social commerce.
Urs gained particular experience in how to structure companies, to become investment ready, to quickly create an MVP, to design and develop products which cover customer needs beyond expectation, to create niche leadership and to scale big with global ambitions.
NETWORKING
To facilitate the exchange between entrepreneurs, please download the app 'CIRCLES by DISEO' and choose the community 'Crypto Valley Entrepreneurs'. You can then chat and call privately or in groups with other entrepreneurs before, during and after the event - stay connected!
On diseo.me you can also add a profile of your company for fundraising. It's free. And you can also create your own social media community platform. You might even get your own social media app for your startup and integrate your services. Please write, when you need more information.        
RECEIVE A TOKENIZED SHARE
Those entrepreneurs who complete the following steps will receive for free a tokenized non-voting share of DISEO in the value of 220 CHF.
1) Participate at this event and leave your email address in the chat room of the zoom session
2) Register on 'CIRCLES by DISEO' through scaning the QR code of Urs Aebischer below
3) Follow 'Crypto Valley Entrepreneurs' on Eventbrite
This gives you the opportunity to experience yourself how you can tokenize your own company and to create your own community to buy your tokenized shares.
ABOUT DISEO
DISEO is the newest venture of Urs with aspiration to become a unicorn in 2022.
DISEO is a decentralized ecosystem of interconnected autonomous social platforms operated by brands and organizations. Users exclusively control their data as a valuable asset and make money from it.
DISEO flips the current Internet payment model upside down. Instead of advertisers paying the platforms, advertisers directly pay verified users for their permission, attention and engagement. Influencers and other contributors as well as the communities receive a revenue share.
In short: Real users earn real money to help brands to create real traction. And as a valuable side effect DISEO eliminates fake users, reduces racism and hate speech and supports sustainability.
We offer to join the team of DISEO to learn how to be an entrepreneur, before you apply your experience gained to your own company. And after you start your own company you will be supported by the DISEO team.
We also invite you to become an 'Entrepreneur in Residence'. This means you develop your idea of your startup as part of the DISEO family. This will accelerate your development.
ABOUT THE EVENT
This event is part of an event series with general discussions on how to create, structure and scale a business or how to address challenges.
We discuss different topics such as:
Seed - Growth - Scale-up Funding
Funding Stages and How to Raise Funds
Forms of Funding / Convertible Debt
Crowdfunding compared to VC Funding
Regulations and How to Comply
Business Modeling
Marketing / Communications / GTM
International Business Development
Trading Platforms
Use Cases
Legal Framework / Agreements with Founders / Employees
International Networking
Pitch Training
Finding Co-Founders / Skilled Experts
Finding Co-Workers / Team Building
Incentivation / Tokenomics
Company Formation / Structuring / Reorganization
Private Equity / Succession
Private Sales / ICO / STO / IPO
Gain insights and learn:
What is required to be an entrepreneur
How to prepare becoming an entrepreneur
What organization structure is needed
What to agree with co-founders
How to get started
How to challenge your idea
How to realize your idea
How to assess your target audience
How to create an MVP
How to build your business model
How to save time and costs
How to avoid pitfalls
How to be unique
How to get investment ready
What investors want to know
How to present to investors
How and when to approach investors
How to tokenize my shares
How to manage investors
How to value your company
When and how to launch
How to create your sales strategy
How to gain initial traction
How to gain customers
How to prepare for growth
How to accelerate your growth
How to manage a crisis
And much more
THIS EVENT IS FOR
This event is part of an event series with general discussions on how to create, structure and scale a business or how to address challenges.
We discuss different topics such as:
Existing and future entrepreneurs

Investors of all stages

Advisors and consultants
MORE INFORMATION
For questions and feedback: 
Chat: https://link.circlessys.com/reffral/SWCHukNprax1EoZK9
Phone: +41 58 680 9000
Email: cve@swissinnovations.com
Linkedin: https://www.linkedin.com/in/ursaebischer
Accelerator: https://swissinnovations.com
DISEO: https://diseo.com and https://diseo.me
----------------------------------------
Entrepreneur | Entrepreneurship | Startup | Tech Startup | Bootcamp | Business | Entrepreneur Webinar | Startup Webinar | Tech Webinar | Entrepreneur Workshop | Startup Workshop | Tech Workshop | Tech Class | Startup Masterclass | Startup Classes | Entrepreneur Classes | Startup Accelerator | Startup Mentorship | Startup Bootcamp | Startup Conference | Tech Conference | Entrepreneur Conference | Business Conference | Business Networking | Startup Networking | Business Training | Entrepreneurship Training | Startup Training | Disruption | Business Transformation | Digital Transformation | Digitalization | Tokenization | Business Model | Business Modelling | Learn to Build Startup | Learn to Raise Funds