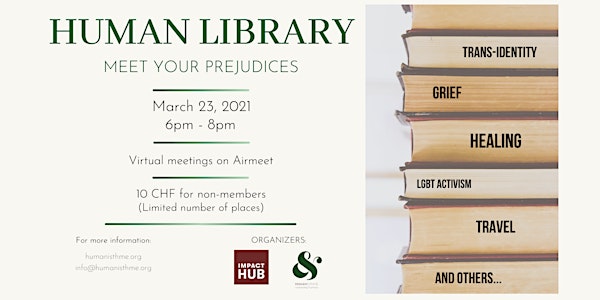 Human Library - 3rd edition
The Human Library makes its grand return on March 23, 2021 and it is a digital edition this time.
About this event
The concept is simple: each human book carries a strong story related to discrimination, exclusion, prejudice or stereotypes experienced. The aim of this meeting between human books and readers is to initiate a personal dialogue. It is the opportunity to talk privately and personally to a "stranger" in a structured, protected, but totally free space - in a strictly limited time, and without any other commitment.
During this edition, you will have the opportunity to virtually meet 3 human books of your choice according to the themes that most interest you. Each meeting will last about twenty minutes and will allow you to listen to their life stories, and then to exchange with them.
6:00-6:30: Presentation of the books
6:30-7:30: Meeting with 3 books of your choice (20 min per meeting)
7:30-8:00: Debriefing and questions
La Bibliothèque humaine fait son grand retour le 23 mars 2021 et il s'agit cette fois d'une édition numérique.
Le concept est simple : chaque livre humain est porteur d'une histoire forte liée à la discrimination, l'exclusion, les préjugés ou les stéréotypes vécus. L'objectif de cette rencontre entre livres humains et lecteurs est d'initier un dialogue personnel. C'est l'occasion de parler en privé et personnellement à un "étranger" dans un espace structuré, protégé, mais totalement libre - dans un temps strictement limité, et sans autre engagement.
Au cours de cette édition, vous aurez l'occasion de rencontrer virtuellement 3 livres humains de votre choix selon les thèmes qui vous intéressent le plus. Chaque rencontre durera une vingtaine de minutes et vous permettra d'écouter leurs histoires de vie, puis d'échanger avec eux.
18h-18h30 : Présentation des livres
18h30-19h30 : Rencontres avec 3 livres de votre choix (20 min par rencontre)
19h30-20h : Débrief et questions