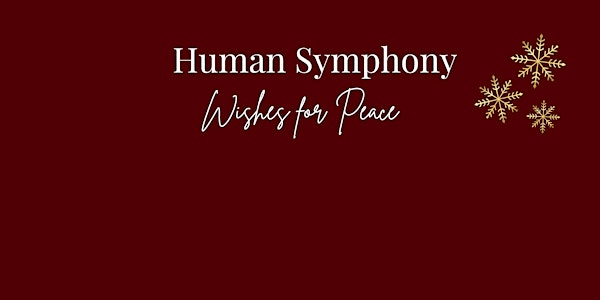 Human Symphony - Wishes for Peace
You are warmly invited to join us for our end-of-year special edition Human Symphony - Wishes For Peace Event!
When and where
Location
Kulturpark 16 Pfingstweidstrasse 8005 Zürich Switzerland
About this event
"The diversity in the human family should be the cause of love and harmony, as it is in music where many different notes blend together in the making of a perfect chord."
- Abdu'l-Bahá
To mark the end of this year, we will gather with representatives from different religious and cultural backgrounds to unite and share our wishes for peace.
There will be speeches, a toy-giveaway for children, an activity by the Christmas tree, heart-warming music, sweets & more. We can't wait to see you there!
Feel free to bring along a culinary dessert from your home country to share with others.
Seats are limited, so early registration is recommended!
*Please note: If you wish to bring a child/children (age 1-12) along with you, please write the number of children you plan to bring and their respective ages in the commentary section of the registration form.
Human Symphony – Voices For Refugees
HUMAN SYMPHONY started off as a story-telling project to share stories and messages of those who are earnestly seeking peace and whose voice still needs to be heard. It is growing to become a platform to spread the values of peace into the world through the youth. Starting from within ourselves with the hope of reaching others also longing for a peaceful world.
We as IPYG (International Peace Youth Group) want to mobilize youth around the world to fight for peace and human rights. When the 1.2 billion young people around the globe stand up for a future of peace, change will be possible!
♡♡♡
When: Saturday, December 17th, 2022,
Start: 14:00 CET
End: 16:30 CET
Host: IPYG Switzerland
Who: Anyone who has a wish for peace and would like to celebrate the end of the year with us. Children are welcome to come too!
Where: Kulturpark, Pfingstweidstrasse 16, 8005 Zürich
Program:
14:00 - 14:15 Welcoming
14:15 - 15:00 Wishes for Peace by diverse representatives
15:00 - 15:25 Wish tree & sharing of gifts
15:25 - 16:25 Sharing & festive buffet
16:25 - 16:30 Official ending
Any questions? Feel free to contact our volunteers via ch@ipyg.org
IPYG is an international NGO committed to attaining the shared goal of humanity—establishing peace and ceasing wars. We advocate for human rights, international peace laws, women's rights, and youth empowerment.