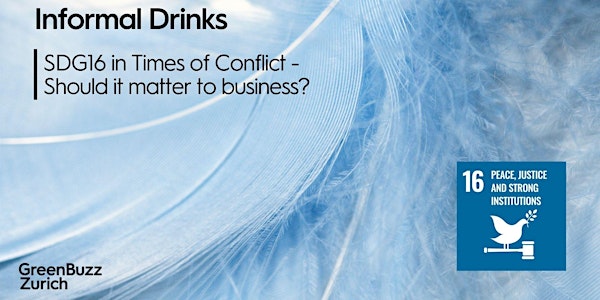 Informal Drinks: SDG16 in Times of Conflict - Should it matter to business?
Following the outbreak of war in Ukraine, GreenBuzz will examine the link between war & sustainability.
When and where
Location
Kulturpark Pfingstweidstrasse 16 8005 Zurich Switzerland
About this event
"There is no sustainability without peace, and no peace without sustainability." - Sustainable Development Goals (SDG 16)
Following the outbreak of war in Ukraine, we said that GreenBuzz would examine the link between war & sustainability and why promoting positive peace is so important.
On September 8th, we will therefore host informal drinks to talk about different forms of peace, and what it implies for politics, businesses and society. We will use SDG 16 as a starting point for this discussion and why it should matter to business.
Military conflicts have a severe impact on the environment, society and economy, causing massive destruction and suffering in the regions affected. At the end of 2021, the total number of people worldwide who were forced to flee their homes due to conflicts, violence, fear of persecution and human rights violations was 89.3 million, the highest level recorded by the UN refugee agency (UNHCR) in almost seven decades.
What can businesses do to ensure they do no harm in regions they operate in? Should weapons be included in sustainable investments? We are joined by Dr Evelyn Dietsche who heads the Business & Peace programme of Swisspeace and Rachel Whittaker Head of Sustainable Investment Research, Robeco to provoke an interesting discussion, moderated by Marie Froehlicher.
But even in the absence of war, the arms industry, maintenance of armed forces and their training place an enormous burden on the environment.
Interestingly SDG 16 includes the greatest number of targets (16) of all the 17 SDGs, it also entails the least implementation measures (2) to achieve it. Why is that? And why is it so difficult to develop concrete steps of action in this regard? What is the role of peace in sustainable development, and is it being talked about enough?
Join us for Informal Drinks after work on September 8th for this important discussion.