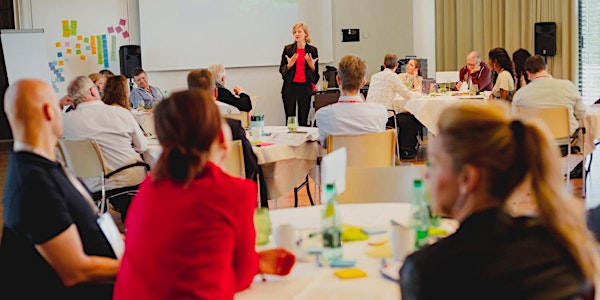 Inspirathon 3-day workshop - creating sustainable businesses for profit
Begin your business or career re-invention through 3 days of hands-on, human-centered, co-creation, experiential learning.
When and where
Location
Klosterstrasse 39 39 Klosterstrasse 5430 Wettingen Switzerland
About this event
Reinvent your business or career through an action-based, hands-on, experiential co-creation 3-day workshop, working on real project, where you'll experience the power of human-centered design, behavioural economic, and design-thinking, all combined together in a proven system.
You'll discover how to navigate the business as unusual, that we are all evolving in, how to make decision fast, while de-risking your next steps.
Registrations are now open at special prices for early birds. Follow the registration link to learn more about the event and book your space as those are limited.
TAKE THE INSPIRATHON CHALLENGE AND DISCOVER HOW TO:
​Use a proven framework that combines design thinking, psychology, behavioral economics, neuroscience and innovation to build a human-centric business that adds real, sustainable value
Tap into collective creativity and intelligence to boost your own ingenuity and generate solutions when existing models fail, so you can design outstanding experiences that inspire people to act and deliver tangible business results.
Use the latest research outcomes to identify amazing new business opportunities, rewire your brain to relish the challenge, think creatively like a child every day, and smash the box!
Pivot from competing on price to competing on value and experience, co-creating value through emotions and experiences with clients, partners and stakeholders that guarantee future revenue and profits.
Navigate our uncertain world with confidence, strong with your new skills and framework, so you can pivot and respond to changing client needs & expectations.
NOT YOUR AVERAGE WORKSHOP
Inspirathon: Summit meets workshop meets hackathon
There are a lot of summits, trainings, and workshops out there.
So what makes this one different?
Hands-on learning. Forget sitting and passively listening to speakers. Every single part is designed to get you involved in activities that will directly impact your business.
No theory or case studies. Our goal isn't to throw a heap of knowledge and statistics at you, leaving you feeling frustrated that you don't know how any of this applies to you. Real life project.
This is pure application. You will tweak what you're already doing and optimize it to drive more innovative, sustainable, profitable, practices that are responsive to your clients' needs.
WHO IS IT FOR ?
Whether you're...
An explorer, frustrated with not charging or earning what you're worth and seeking to change,
A business owner or entrepreneur feeling like you're stuck working in your business instead of on it, or
A corporate warrior, working too hard to champion change that never sticks in your organization
Join us for 3 days of fast-paced, impactful, hands-on experiential learning.
Human Value hacker and Business Doctor Wioletta will teach you weinvolve evidence-based strategy, which can use right away to pivot an existing business or career, or to start a new one from scratch.
Now you can learn all of this in a compact time of just an extended weekend.
A weekend that will catapult you to the next level.
No matter if you start afresh or want to increase your value for your existing customers or stakeholders, and therefore your revenue.
More Information: https://page.weinvolve.ch/Inspirathon-f2f