Dieses Event ist beendet.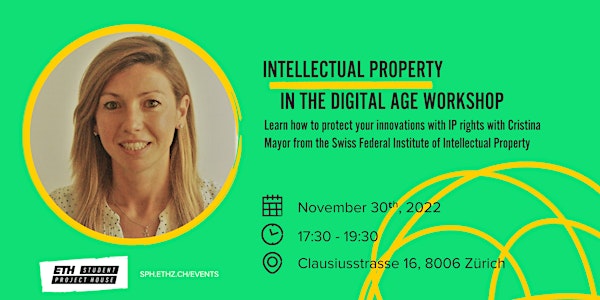 Intellectual Property in the Digital Age Workshop
Learn how you can protect your innovations with IP rights! #event #ideaspace
Zeit und Ort
Veranstaltungsort
SPH - FHK Clausiusstrasse 16 8006 Zürich Switzerland
Karte und Wegbeschreibung
Zu diesem Event
Workshop topic
During this workshop, you will learn how you can protect your innovations with IP rights and what kind of protection might be suitable for your business model. Find out how you can check on your competitors, your technology field, and your main markets. Ask all the questions about intellectual property protection you have always had in your head and that you have been thinking of for a long time.
Key elements of the workshop
If you have a business idea, you should be interested the different ways of protecting this idea as Intellectual Property. We will start with a rich input by Cristina, based on questions collected beforehand. In the second half of this workshop, risks and benefits of IP protection will be discussed, and you will have the chance to ask further questions.
About the speaker - Cristina Mayor
Cristina Mayor has worked as a patent expert in the field of Electrical & Communication Engineering at the IPI since 2014. She was promoted to work in the IP core team to progress on the digitalization within IPI and supporting the SMEs for IP Awareness.
Before joining IPI, she finalized her studies at the technical University of Munich (TUM) and worked for Siemens and Airbus for 9 years. During this time, she worked in various positions in the R&D department.