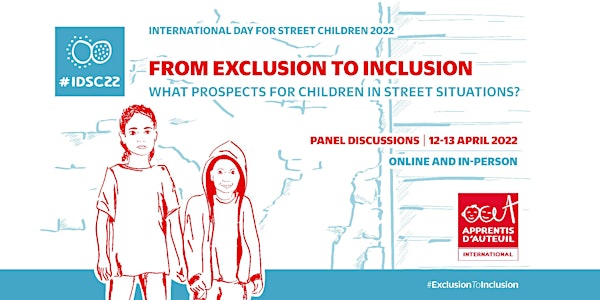 International Day for Street Children - 12-13 april 2022, Geneva and Online
Location
Birdhouse / Online
8 Chemin de Blandonnet
1214 Vernier
Switzerland
International Day for Street Children 2022 - Conference in-person and online
About this event
Alongside the FAAI and its local partners, child protection specialists will lead interactive discussions on the global issue of children in street situations and reflect on ways to ensure better protection of their rights.
Aux côtés de la FAAI et de ses partenaires terrain, des spécialistes de la protection de l'enfance conduiront une réflexion interactive sur la problématique internationale des enfants en situation de rue et les solutions à mettre en place pour une meilleure réalisation de leurs droits.
For more information / Pour plus d'information : https://faai.ch/IDSC22
The conference is available IN-PERSON at the Birdhouse and ONLINE. You will be able to select your prefered option within the registration form.
French and English translation will be available.
La conférence se tiendra en PRESENTIEL au Birdhouse et sera retransmise en VIRTUEL . Vous pouvez choisir vos options d'enregistrement dans le formulaire.
Une traduction en Français et en Anglais sera disponible.
For any technical issue related to the broadcasted conference, please contact supportIDSC22@apprentis-auteuil.org or call +41 22 556 77 96
Pour toutes questions techniques concernant la retransmission de la conférence, merci de contacter supportIDSC22@apprentis-auteuil.org ou par téléphone +41 22 556 77 96