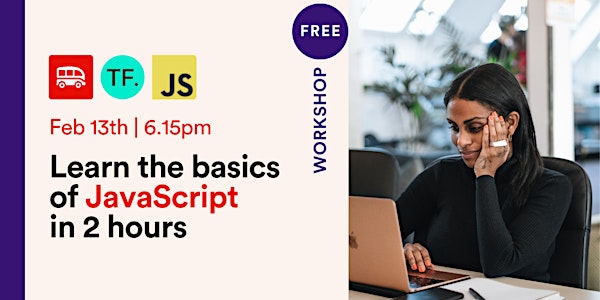 Intro to JavaScript
This is the first workshop or a series of in-person workshops hosted at Impact Hub Zurich, designed to get you started in your tech journey!
When and where
Location
Impact Hub Zürich - Viadukt - Event Space Bogen D Viaduktstrasse 93 8005 Zurich Switzerland
About this event
2 hours 45 minutes

Mobile eTicket
This workshop is part of a series of in-person workshops hosted at Impact Hub Zurich and designed to get you started with your tech journey!
⭐️ This workshop is a collaboration between Le Wagon and TechFace ⭐️
Let's go through JavaScript core notions together. This interactive workshop will help you to get started in programming with JavaScript!
In this workshop you will learn:
The very basics of programming, including topics such as "variable assignation", "if statements" and "loops".
The basic concepts shared across most programming languages. This is a great opportunity for you to find out if coding is something you'd like to pursue.
After you've mastered the basics, you can dive into more complex topics such as DOM manipulation and also understand how to use JavaScript frameworks like "next.js", "node", React", to build your own digital products!
About this workshop:
This workshop will start with a 1-hour lecture to introduce the core concepts. You will then be onboarded on Le Wagon's e-learning platform and access the slides, a sum-up of key notions, as well as exercises to keep practicing after the workshop.
* This workshop is for beginners (no background in tech needed).
* Please, bring a fully charged laptop (no firewalls).
🗓️ DATE
Monday, Feb 13th, 2023
📍 LOCATION
Impact Hub Zürich
Viadukt, Event Space Bogen D
Viaduktstrasse 93, 8005 Zurich
🕔 SCHEDULE
18:15 Arriving
18:30 JavaScript Workshop
20:30 Wrapping up & Networking Apéro
About TechFace:
TechFace is solving the talent gap and increasing diversity in tech. They are improving diversity in tech by showcasing the most exciting career opportunities and coaching our community to build the skills needed to take those opportunities. In other words, TechFace is expanding the companies' hiring network.
Additionally, TechFace addresses the demand for new skills and the need for diversity in tech by offering a career shifter program for women. The program consists of a coding bootcamp, state of the art tech workshops, career focus coaching and placement support in a tech job. Since 3 years, TechFace entrusts and partners with Le Wagon for the bootcamp.
Visit: www.techface.ch
About Le Wagon:
This workshop is brought to you by the #1 rated coding bootcamp worldwide. Le Wagon emerged in 2014 as one of the first tech bootcamps in France, offering web development and data science programs. Now, it has grown to a robust global community of tech talents with 45 Le Wagon campuses in Amsterdam, Berlin, Lisbon, London, Melbourne, Mexico, Montreal, Singapore, São Paulo, Paris, Tel Aviv, and other cities worldwide.
With this expansion, Le Wagon has helped over 13,500 developers, data scientists, designers, and entrepreneurs start their new careers in tech. Eight years on, the school continues to inspire tech aspirants to find their path in the industry.
About Impact Hub Zurich:
The global community of entrepreneurial people prototyping the future of business. At Impact Hub Zurich, you can connect, collaborate, co-work and create great content in an inspiring environment.
Upcoming Bootcamps:
Data Science Full-time in Zurich 17 Apr. 23 >> 16 Jun. 23
Web Dev Full-time in Zurich 17 Apr. 23 >> 16 Jun. 23
Follow Le Wagon Zurich on social media: