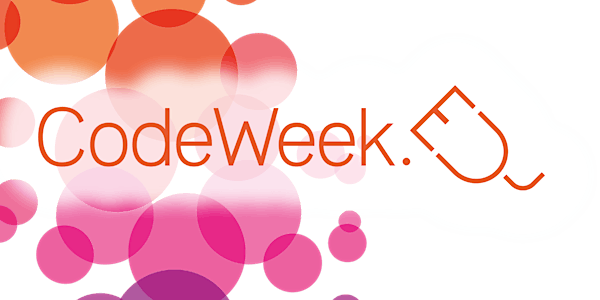 Introduction to Python for teachers
EU Code Week 2020: Online Event for Teachers, 23 October 2020 by Rightstech Women
About this event
Teach Your Students Programming in Python and about Women in STEM
Event date: 23 October 2020
Time: 12:00-12:30 (CEST)
Format: Via video conference
In English
Join RightsTech Women to learn about a fun activity that any teacher can do with their learners, using a computer and a web browser, to help their participants learn computational thinking using the Python programming language. Your participants will learn about Python dictionaries and how they store and retrieve information. At the same time, participants will learn about famous women in science, technology, engineering and mathematics (STEM).
This live video conference event is open to primary and secondary teachers of any subject, whether science, math, music, art language, etc.
To register for this free event, visit the Eventbrite link https://www.eventbrite.com/e/introduction-to-python-for-teachers-tickets-125703888715
After you register, go to the 'Online Event Page' for this meeting here in Eventbrite, where you will find the meeting details. This page is accessible to attendees.
We will record this event, so if you do not want your image to be recorded, please make sure your video is off, using the controls at the bottom of your Zoom screen.
We look forward to seeing you on the 23rd of October!
-The RightsTech Women Team
Semaine du code de l'UE 2020
Les femmes et la science!
Enseignez à vos élèves la programmation en Python et familiarisez vous avec les femmes dans les sciences
23 octobre 2020
12h00-12h30 (CEST)
Par vidéoconférence
Rejoignez RightsTech Women pour découvrir une activité amusante que tout enseignant-e peut faire avec ses élèves, à l'aide d'un ordinateur et d'un navigateur Web, pour aider leurs élèves à apprendre la pensée informatique à l'aide du langage de programmation Python. Vos élèves découvriront les dictionnaires Python et comment ils stockent et récupèrent des informations. Dans le même temps, les élèves découvriront des femmes célèbres en sciences, technologie, ingénierie et mathématiques (STIM).
Cet événement de vidéoconférence en direct est ouvert aux professeurs de toute matière en Suisse, qu'il s'agisse de sciences, de mathématiques, de musique, de langage, l'art, etc. L'événement se déroulera en anglais.
Pour vous inscrire à cet événement gratuit, visitez le lien Eventbrite: https://www.eventbrite.com/e/introduction-to-python-for-teachers-tickets-125703888715
Une fois que vous vous êtes inscrit-e, rendez-vous sur la 'Online Event Page' («Page d'événements en ligne») pour cette réunion ici dans Eventbrite, où vous trouverez les détails de la réunion. Cette page est pour les participant-e-s de notre événement.
Nous enregistrerons cet événement, donc si vous ne souhaitez pas que votre image soit enregistrée, veuillez vous assurer que votre vidéo est désactivée, en utilisant les commandes en bas de votre écran Zoom.
Nous nous réjouissons de vous voir le 23 octobre !
-L'équipe de RightsTech Women