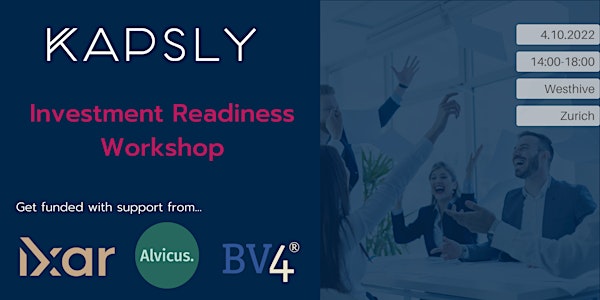 Investment Readiness Workshop
Fundraising is hard. Get prepared to fundraise successfully.
Zeit und Ort
Veranstaltungsort
Westhive Hardturm 161 Hardturmstrasse 8005 Zürich Switzerland
Karte und Wegbeschreibung
Rückerstattungsrichtlinie
Zu diesem Event
In this workshop, you will learn what constitutes successful fundraising, and create an individual fundraising strategy together with experts.
You will benefit from the expertise of IXAR Legal AG (Business Law Firm), Alvicus AG (Company Builder & Investor) and BV4 AG (Fundraising Advisory Boutique).
THIS IS A PHYSICAL WORKSHOP FOR DEDICATED FOUNDERS. DURING THE WORKSHOP YOU ACTIVELY WORK ON YOUR FUNDRAISING STRATEGY AND RECEIVE INPUT FROM EXPERTS AND YOUR PEERS.
Topics covered during the Workshop:
Define your fundraising goals
Fundraising roadmap
Create your Investor Persona
Prepare for due diligence
Company and financial document
What would normally take you many hours in trial & error and consulting fees (or accelerator capital for consulting) can be accomplished in just an afternoon for a very small fee. In addition, our experts are available throughout October to answer your individual questions and offer you the best possible conditions for successful fundraising.
The event will be closed by an apèro and a great networking opportunity.
Location: Westhive Coworking Space on Hardturmstrasse 161.
If you have questions in advance, please contact vincent@kapsly.com