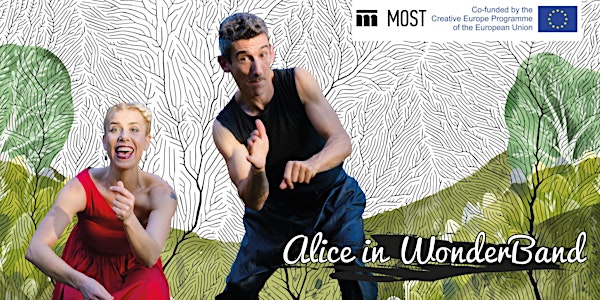 Koncert Alice in WonderBand
Ovo su drugačiji zvuci Balkana! Alice in WonderBand predstavlja svoj novi album "rikaTaka, New Balkan Rhythm" na koncertnoj turneji.
Date and time
Friday, March 3 · 8 - 9:30pm CET
Location
Theatre 'Dobrica Milutinović' Gradski Park 321042 Sremska Mitrovica Serbia
Refund Policy
Contact the organizer to request a refund.
About this event
Ovo su drugačiji zvuci Balkana! Alice in WonderBand slavi neobičnu i uverljivu žanrovsku mešavinu na svom debi albumu "RikaTaka, New Balkan Rhythm" objavljenom 4. novembra za uglednu nemačku kuću "CPL-Music".
Imaćete priliku da kupite CD izdanje. Digitalno izdanje pronađite ovde.
Ulaz je donacija.
Vodeći publiku na putovanje Balkanom, ne bojimo se novih zvukova. S muzičkom tradicijom Balkana spajaju se akustični zvuci tela kao instrumenta, pri čemu narodne pesme iz Srbije, Hrvatske, Bosne, Severne Makedonije, Bugarske, Moldavije, Grčke, Turske, Kosova, pa čak i Mađarske, bude radoznalost za bogatu muzičku tradiciju regije.
Doživite kulturnu baštinu ovog podneblja na neposredan, uzbudljiv i nesvakidašnji način!
Iz medija...
"RikaTaka, New Balkan Rhythm" je na sedmom mestu liste World Music Charts Europe za decembar 2022. godine.
"Zajedništvo umesto večitih sukoba, te ljubav, kao tema pesama, moguće su i poruke Alice in WonderBand-a sa albuma "RikaTaka", jednog neobičnog i drugačijeg world music albuma sa ovih prostora."
Nikola Glavinić, MICS
"Ovde bih istakao Aninu vokalnu energiju... što po sam duo predstavlja dodatni dobitak."
Branimir Lokner
"Slušate li njihove pjesme morate reći da su sjajni, da se njihovi ritmovi nezaustavljivo zavlače pod kožu, u kosti, penju vam se uz leđa, a tek onda se fokusiraju na uši. Ovo što Alice in WonderBand radi je naprosto umjetnost. I to umjetnost koja se opire cijelim svojim bićem žanrovskom ograničavanju."
Amir Misirlić
"Neumitnom žestinom, duo Alice in WonderBand iz Srbije predstavlja zanimljivu mešavinu stilova. Opseg zvučnih slika je izuzetno zanimljiv i nudi mnogo prostora za otkrivanje isprepletenih tonova i zvukova."
Michael Brinkšulte
Dizajn promotivnog materijala je ostvaren uz podršku MOST Music projekta. MOST Music je složena evropska strategija za balkansku world muziku, koju podržavaju Kreativna Evropa, program evropske komisije za podršku kultura i audiovizuelni sektor - www.mostmusic.eu
ENG
Balkan sounds with a difference! The Alice in WonderBand from Serbia celebrates an unusual and convincing genre mix on their debut album RikaTaka, New Balkan Rhythm. The duo is not afraid of new sounds! Acoustic and unusual sounds combine with the music tradition of the Balkans. Folk songs from Serbia, Croatia, Bosnia, Northern Macedonia, Bulgaria, Moldavia, Greece, Turkey, Kosovo and even Hungary make you curious about the rich musical tradition of the region. They are currently in the MOST Balkan Music Export program.
"RikaTaka, New Balkan Rhythm" is No 7 at World Music Charts Europe in December of 2022.
#rikataka #newbalkanrhythm #aliceinwonderband #telesnamuzika #telesneperkusije #balkanskamuzika #silosi #beograd #telokaoinstrument
About the organizer
Alice in WonderBand is a duo of performers bringing together world music and odd beats from the Balkans with body music and body percussion. Ana Vrbaški and Marko Dinjaški are performing on stage in theaters and concerts and are a couple in life for 25 years, living in nature, near Fruška gora National park.
Their unique lifestyle brings music in connection with the body and nature. Performances are vibrating and rhythmic, powerful and energetic, a crossroads of dance, stage movement and music. Deep, primordial experience takes the audience on a journey through the Balkans as well as to the depths of the being. Performers create a singing and clapping community with the audience, feeling rooted, grounded and inspired.