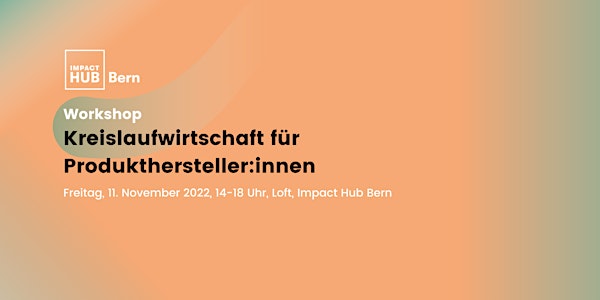 Kreislaufwirtschaft für Produkthersteller:innen | Workshop
Weiterführende Workshop für Unternehmen, die sich für das Potential der Kreislaufwirtschaft in der Schweizer Wirtschaft interessieren.
When and where
Location
Impact Hub Bern 28 Spitalgasse 3011 Bern Switzerland
Refund Policy
Contact the organizer to request a refund.
About this event
Nachhaltigkeit wird vom Konsumtrend zum Wirtschaftsfaktor und zielt auf eine ressourceneffiziente und zirkuläre Wirtschaft ab. In diesem Kontext sind unternehmerische und innovative Lösungen gefragt. Dazu bieten wir ein Grundgerüst. In diesem Workshop erfährst du welche Lösungen die Kreislaufwirtschaft für die Zukunft bietet und wie du sie in deinem Unternehmen konkret die umsetzen kannst.
Du möchtest dein Unternehmen nachhaltig für die Zukunft vorbereiten? Du möchtest die Möglichkeiten der Kreislaufwirtschaft besser verstehen und Idee für dein Unternehmen entwickeln? Der Workshop «Kreislaufwirtschaft für Produkthersteller:innen» bietet eine strukturierte Vorgehensweise, um effizient innovative Ideen zu erarbeiten sowie bisher unbekannte Möglichkeiten für neuartige Lösungen zu entdecken. Anhand eines in Gruppen bearbeiteten Praxisbeispiels erlebst du diese kreative und effektive Methodik. Du weisst wie deine Idee schrittweise umzusetzen und kannst deren Wirkung effektiv kommunizieren.
WARUM? Ein Unternehmen nach nachhaltigen Prinzipien und mit einem gesunden Verständnis für Verantwortung für unsere Umwelt zu führen, hat einen massgeblichen Einfluss auf den langfristigen Erfolg eines Unternehmens. Erfolgreiche Pionierfirmen haben gezeigt, dass durch eine nachhaltige Orientierung die Mitarbeiterzufriedenheit erhöht, die Kundenbindung verbessert und neue Zielgruppen erreicht werden können.
WIE?
- Kurze, praxisnahe Fachinputs
- Gruppenarbeiten an einem konkreten Case
- Anwendung des Cirular Economy Canavs
- Peer-to-Peer Austausch in der Gruppe
FÜR WEN?
- Personen aus Unternehmensleitung, die sich für die Kreislaufwirtschaft interessieren und einen proaktiven Beitrag in die nachhaltige Erfolg ihrem Unternehmen leisten möchten
- Personen, die sich mit dem Erarbeiten von neuen Angeboten beschäftigen (Produktmanagement, Produktenwicklung, Innovationmanagement)
OUTCOMES
Die Teilnehmenden
…verstehen was die Kreislaufwirtschaft für den eigenen Unternehmen heisst und können Möglichkeiten erkennen.
…kennen praktische Tools, Methoden und Best Practices, die gemeinsam mit Startups, KMUs und Corporates entwickelt wurden.
…haben einen oder mehrere zirkuläre Ideen entwickelt und können sie erfolgreich gegenüber internen Stakeholdern kommunizieren.
...können die Wirkung eigener Idee messen und wirkungsvoll vermitteln.
...gewinnen einen Einblick in die Impact Hub Community
VORAUSSETZUNGEN
Es sind keine Vorkenntnisse über die Kreislaufwirtschaft oder Innovation nötig.
Die Teilnehmenden können - müssen aber nicht - eine eigene Idee oder eigenen Case mitbringen.
Workshop Datum: 11. November 2022
Ort: Impact Hub Bern, 5. OG Loft
Zeit: 14.00 - 18.00 Uhr
Teilnehmeranzahl 6 bis 16 Personen.
Ticket Preis: CHF 89.-
Workshopleitung: Noora Buser, Impact Hub Bern
Noora Buser is Managing Partner vom Impact Hub Bern und eine Kreislaufwirtschaftsspezialistin. Sie bringt ein ihre Perspektive ihrer mehrjährige Erfahrung mit Startups und Unternehmen in der Schweiz, in die aktuellste Trends einführen und die Diskussion moderieren.