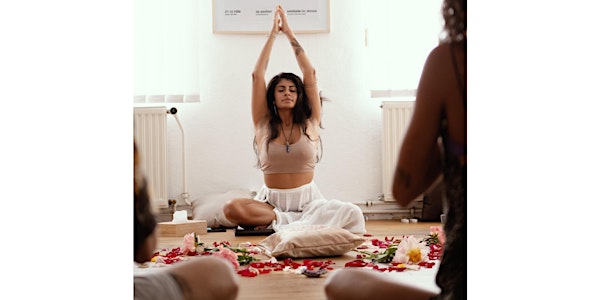 Kundalini + Tantra Workshop
A journey through your subconscious to release + heal unconscious blocks & pain within you. Come back to the innocence of your heart & soul.
When and where
Location
Kulturraum Le Nid 10 Rüdigerstrasse 8045 Zürich Switzerland
Refund Policy
Contact the organizer to request a refund.
About this event
The Kundalini + Tantra Workshop is made up of 3 parts
1. Kundalini + Tantric Meditation
To ground you and connect with your heart and soul.
2. Kundalini + Tantric Breathwork
Enter a state of shamanic trance and flow freely in a state of pure being, without getting interrupted by the mind.
3. Somatic Movement
Allowing your body to express itself the way it wants to express itself in the present moment.
Kundalini is your life-force energy that allows you to go through life energized, fully of joy and happiness and see the sacredness in every moment.
Benefits of working with your Kundalini energy:
Strengthens your inner Willpower
Increased Brain Power
Creativity bursts through your whole Body
Opens up your Heart and Body
Increased Acceptance for Life and what it has to offer
Compassionate Communication comes easier
Wise choices are easy to make with your increased Intuition
Increased Sexual Energy
Deep Healing of conscious + unconscious Fears, Traumas and blocked Pain in your Body
Strengthens your Nervous System thus reducing your response to stress
Increased Health + Vitality
so much more...
Tantra is an ancient Indian philosophy based on the concept that life and our bodies are sacred. Futhermore Tantra believes that being present in the moment is the deepest intimacy that you can experience with yourself and others. Through sacred practices we deeply connect to ourselves and others. We open our hearts to the magical moments in everyday life and get to experience how innocent love is at the core of everything we do.
An ancient tradition that is getting the attention from the modern world more and more again as we humans crave deep connection, attention, being loved, feeling seen and heard!
We all want to feel loved, seen and heard and it starts with us loving, seeing and hearing ourselves first.
In this workshop we'll be meditating, doing breathwork and partner practices to see the innoncence in each other and ourselves again.
Purity and childlike wonder is the topic here!
Come solo or bring a friend or a lover! ❤️
What to expect
A journey into your senses, into your subconscious and unconscious where blocked, unknown fears, traumas and pain can come up so you can heal and transform your life. Especially regarding intimacy, opening your heart and unconditional love.
This is a sacred place where everyone can close their eyes and go within. Where you get to release hidden, deeper things within you without getting judged.
*The Workshops are held in English*