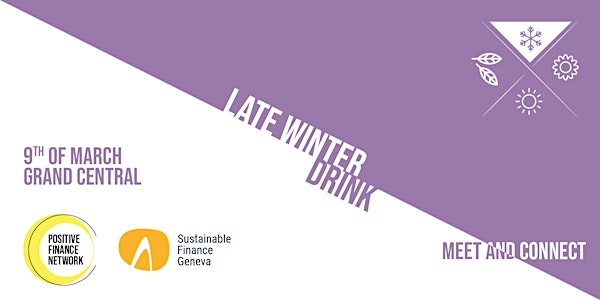 Late Winter Drinks
Let's meet up around some drinks on March 9th at Grand Central Food Hall as of 6.30pm to meet, connect, re-connect and more...
When and where
Location
GRAND CENTRAL @ Halles de l'Île 1 Place de l'Ile 1204 Genève Switzerland
About this event
Positive Finance Network vise à réunir des individus avec des valeurs communes ayant des liens avec Genève et travaillant dans les secteurs de la finance durable et des investissements à impacts environemental et social POSITIFS. Tout en passant de bons moments, nous souhaitons créer un espace de partage et de connection afin de stimuler les collaborations et synergies possibles pour un avenir viable et responsable. Nous croyons aux vertus positives d'un bon réseau. Le plus nous serons liés, partagerons et collaborerons, le plus efficace et pertinent sera le fruit de notre labeur.
Sustainable Finance Geneva est une association dédiée à la croissance de la finance durable. Une finance au service d'une économie respectueuse des ressources naturelles et alignée sur les besoins d'une société juste et durable. Constituée de membres individuels et de partenaires institutionnels, SFG incarne depuis 2008 la volonté de faire de la finance durable l'unique référentiel.
***
Positive Finance Network aims to gather likeminded individuals with ties to Geneva and working in the fields of sustainable finance and impact investing. We want to create a space for connection and fun, seeking to stimulate collaborations and synergies towards a more sustainable future. We believe in the positive power of network - the more bound we will be, share and collaborate, the stronger and more relevant our work will be!
Sustainable Finance Geneva is an association dedicated to the growth of sustainable finance. Finance that serves an economy that respects natural resources and is aligned with the needs of a just and sustainable society. Composed of individual members and institutional partners, SFG embodies since 2008 the will to make sustainable finance the only reference.
http://www.positivefinancenetwork.com