Dieses Event ist beendet.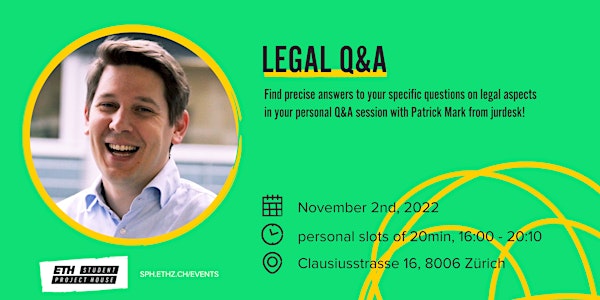 Legal Q&A for SPH Projects
Find precise answers to your specific questions on legal aspects! #event #ideaspace (only for SPH Projects)
Zeit und Ort
Veranstaltungsort
SPH - FHK Clausiusstrasse 16 8006 Zürich Switzerland
Karte und Wegbeschreibung
Zu diesem Event
Workshop topic
In this "Question & Answer" session we want to find precise answers to your specific questions on legal aspects. Within the context of your project at SPH, did you ask yourself how to protect your intellectual property, how to deal with legal topics of founding a company? We will not cover questions on regulations (e.g. permits, certifications regarding health, Finma, BAG, or taxes).
Key elements of the workshop
With up to 12 projects, you will have the chance to meet Patrick in person and ask your well-prepared questions during 20 min sessions.
If more than 12 projects sign up, we will change the format, and pre-select your questions. In the plenum, Patrick will provide short theoretical inputs on bundled questions, followed by your individual questions.
About the speaker
Patrick is founder of jurdesk and specialized in intellectual property, corporate and commercial law. His professional practice is focused on advising Swiss and international ventures in all stages of a company's development, from incorporation to the first investment rounds, risk financing, complex business transactions and exits.
Before founding jurdesk, Patrick has worked in law firms and as a managing director for an international IT solutions provider. Patrick holds a LL.M from University of Lucerne. He knows how to achieve not only legally sound but also economically sustainable solutions for complex issues.