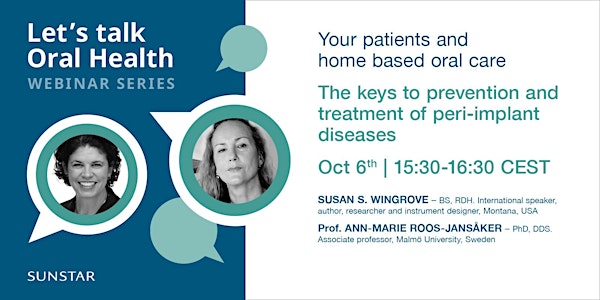 Let's talk Oral Health - Implant dentistry and home-based oral care
Welcome to the 6th webinar of our Let's talk Oral Health series, dedicated to implant dentistry and home based oral care.
About this event
The 6th episode of our webinar series will explore how home-based oral care is the key component to prevent peri-implantitis.
Peri-implantitis has been a growing predicament for years and yet, no firm consensus on its treatment has been agreed upon in the professional community. In such instance, prevention of the disease remains the mainstay and, as for periodontal conditions, resides in the patient's daily oral care. In this webinar, Prof. Roos-Jansåker and Ms. Susan Wingrove will discourse on the basics of peri-implantitis and focus on the effective non-surgical treatments, including the patient's role and how the professional can accompany the patient in this quest to prevent peri-implantitis or its relapse.
Ms. Susan S. Wingrove - BS, RDH. Dynamic Innovator, International speaker, writer, researcher, instrument designer, and SUNSTAR RDH Award of Distinction Recipient, Montana, USA. Susan's focus is on biofilm-focused care and long-term protection against diseases of natural teeth and implants. She specializes in sorting through the science to develop protocols for healthy, periodontal, and peri-implant diseases for hygienists. Published author; ACP Clinical Practice Guidelines Scientific Panel, Dynamics Concepts' Blog, Doctor Clinical Implant Maintenance White Papers, American and International journals on peri-implant therapy, regeneration, and advanced instrumentation. Textbook: Peri-Implant Therapy for the Dental Hygienist: Second Edition, Wiley Oxford UK. Resides in Missoula Montana USA. Contact: Email: sswinrdh@gmail.com / Website: wingrovedynamics.com
Prof. Ann-Marie Roos Jansåker - PhD, DDS. Associate professor, Malmö University, Sweden. Ann-Marie works as a senior consultant and collaborates with several universities in research into peri-implantitis and periodontitis. She is an associate professor at Malmö University and past president of the Swedish Society of Periodontology and Implantology. Her thesis "Long-time follow-up of dental implants and treatment of peri-implantitis" in 2007, received great international attention when peri-implantitis was not particularly recognized. A special interest is how the professional approach reflects on the patient and the ability of professionals to guide the patient in behavioral changes. She offers several courses and lectures both nationally and internationally every year.
This is an online event. After the registration, the link to the live stream will appear on the right side.
On the day of the event, we advise you to join the stream on our YouTube channel via the button "watch on YouTube" in the left-down corner of the video, to be able to interact with speakers.