Dieses Event ist beendet.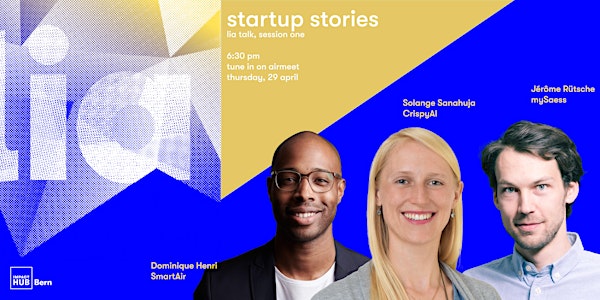 lia talk: startup stories – session one
Session one of lia talk: startup stories invites Solange sanahuja, Jérôme Rütsche and co-host Dominique Henri to share their adventure.
Zu diesem Event
Three stories, one talk: This new 1h-Talk let's you experience the thrills and struggles of initiating a startup. For the first LIA TALK – STARTUP STORIES – session one we invite Jérôme Rütsche, co-founder of mySaess and the first LIA – Lean Innovation Award Winner to tell us about his first steps and experiences founding his startup. Also we welcome Solange Sanahuja who is in the process of founding CrispyAI and working as scientist at BFH.
Our charismatic co-host Dominique Henri will give us insight in the development of his project smartair. One Talk and many stories to share. Hosted by Sol Kislig from Impact Hub Bern.
You are having an entirely average day. Then suddenly, out of nowhere, it hits you. You are confident that this idea you just had will change the world. At the very least. But how do you tackle putting it into action? LIA TALK: STARTUP STORIES invites innovative minds and daredevils that have done exactly that. We would like them tell us about their adventure of actually transforming their idea into a concrete project. And maybe inspire some of you to take that step as well.
program
18:30 welcome & introduction to airmeet by hosting duo Sol Kislig & Dominique Henri
startup story 1: Solange Sanahuja, CrispyAI
startup story 2: Jérôme Rütsche, winner of LIA 2020 & co-founder of mySaess
startup story 3: Dominique Henri, founder of handprint and co-host of the lia talk
19:10 Your questions and spontaneous Meet & Greet at the airmeet tables
admission & language
This online event is completely free of charge. Click here to tune in on airmeet! The event will be hosted in English by Sol & Dominique.
online location
This online event will take place on the new and nice event plattform airmeet. No registration needed. The Airmeet Link: https://www.airmeet.com/e/b2d0c280-9dd6-11eb-88f8-ad7c40a9cb6e You can enter the event at around 6:30 pm and join the show.
lia – lean innovation award
The Lean Innovation Award is your threshold to entering the world of entrepreneurship and becoming part of this unique community. Do you have an interesting idea that just needs a little push? Consider applying to the lia 2021/22 and win up to CHF 25 000 for your own idea: leaninnovationaward.ch