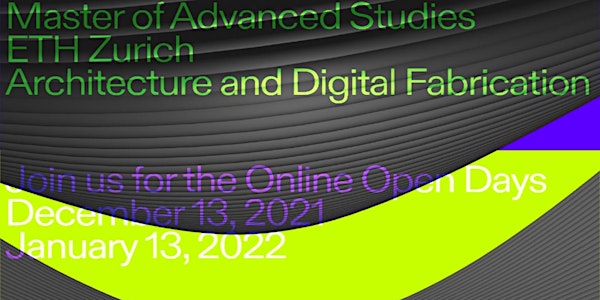 MAS ETH DFAB 21/22 - Online Open Day, ETH Zürich
Open Day for the Master of Advanced Studies in Architecture and Digital Fabrication at ETH Zürich.
About this event
The Master of Advanced Studied in Architecture and Digital Fabrication is an intensive twelve-month postgraduate programme. Our curriculum combines two of the most rapidly developing fields in architecture: 3D printing and robotic fabrication. It equips students with the technical, intellectual and artistic skills to master the digital chain from computational design to the fabrication and assembly of full-scale structures in architecture.
As part of the Swiss National Centre of Competence in Research Digital Fabrication. the programme capitalizes on the broad interdisciplinary knowledge of the researches and experts in our team. With full access to the unique rapid prototyping and robotic fabrication laboratories at ETH Zürich, the programme prepares students for a career both in academia as well as in architecture and the construction industry.