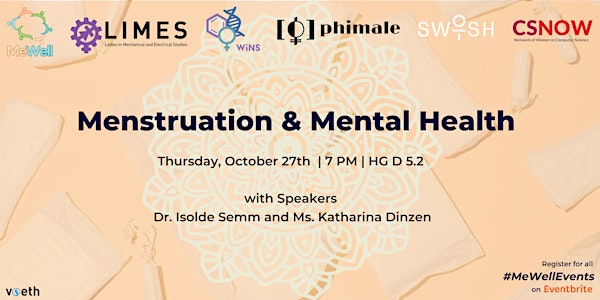 Mental Health & Menstruation (All genders welcome!)
Periods – over 25% of the population experience it every month, yet we hardly ever talk about it. Let's break that bloody taboo.
When and where
Location
ETH Zürich HG D 5.2, Rämistrasse 101 8092 Zürich Switzerland
About this event
A panel discussion with Dr. Isolde Semm and Katharina Dinzen on menstruation and the effects it has on ones mental health.
What is a menstrual cylce and how exactly does it affect out bodies and our moods?
Are painful periods normal?
What is PMS and how can I manage it?
What is endometriosis?
Why do we have to pay for period products?
Is our current work/life model build to cater to the needs of non-menstruating people?
Can I harness the effects of my menstrual cylce to live a more fulfilled life?
How can we integrate menstruation more into our society?
These are just some of the period-related topics we don't talk about enough. Got any more questions or a specific topic you're burning to discuss? Then join our discussion or simply fill out this form to ask your questions!
We welcome all attendees to further discuss their insights at the apéro after the talk. All genders are welcome!
This event has been organized in collaboration with CSNOW, LIMES, Phimale, SWiSH and WiNS.
About the Speakers
Dr. Isolde O'Neill Semm is an internationally recognized Obstetrician - Gynecologist currently based in Zürich, Switzerland.
She completed her medical studies with honours at the Royal College of Surgeons in Dublin, Ireland and began her obstetrical training at Dublin's Rotunda Hospital, the world's first maternity training hospital .
In 1994 she completed her specialty training at the prestigious Universitäts Frauenklinik in Kiel, Germany under Prof. Dr. med. Dr. h. c. mult. Kurt Semm - who is considered the Father of Laparoscopic Surgery and a Nobel Prize nominee.
Following her specialization in OB-GYN she successfully completed her training in Reproductive Endocrinology under the world renowned Professor Liselotte Mettler .
Dr. Semm has extensively traveled the world teaching Laparoscopic Surgery, including China in the early nineties where she was granted an honorary doctorate.
Following many years of practicing across Europe, Dr. Semm settled in Zürich, where she currently practices.
"One of the great pleasures of being a Gynecologist is to be at the forefront of women's health, feminine issues, and the female "Da sein". "
Katharina Dinzen is a certified teacher for fertility education and natural family planning (NFP) and founder of Ovulista. Ovulista offers online courses and digital products for menstrual health and fertility education. Katharina's mission is to show women and girls how they can use their menstrual cycle for their aims: their well-being, their health or their family planning i.e. getting pregnant or preventing a pregnancy.