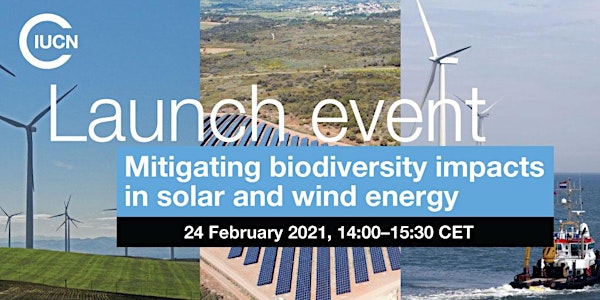 Mitigating biodiversity impacts associated with solar and wind energy
Sales Have Ended
Registrations are closed
Ticket sales have ended. Please contact ella.diarra@iucn.org for any questions and/or comments.
Renewable energy is key for the transition to a low-carbon future, but it has to be compatible with nature and society.
About this event
As renewable energy sources, combined with measures to enhance energy efficiency, scale-up to address the climate crisis, it is critical that this expansion of solar and wind power does not lead to further biodiversity loss or ecosystem impacts.
To address this challenge, IUCN and The Biodiversity Consultancy, in collaboration with partners from conservation and the energy sector, have developed new guidelines, Mitigating biodiversity impacts associated with solar and wind energy development.
Join us for the launch of these new guidelines on Wednesday, 24 February, at 14:00 CET, when experts will outline their main findings and discuss practical, science-based best approaches recommended to help all actors better manage the biodiversity risks associated with solar and wind projects. This dynamic presentation will include panel discussions with representatives from the conservation organisations and energy companies contributing to the report, along with other experts.
Agenda
Welcome message by Bruno Oberle, Director General, IUCN
Opening remarks on opportunities and risks associated to the deployment of renewable energy sources by Stewart Maginnis, Global Director, Nature-based Solutions, IUCN
A panel discussion with experts from BirdLife, Fauna and Flora International, The Nature Conservancy and Wildlife Conservation Society, presenting innovative projects focusing on solar and wind developments that are addressing nature conservation. Chair and Speakers:
Tris Allinson, Senior Scientist, BirdLife International
Pippa Howard, Director, Extractive & infrastructure, Fauna & Flora International
Joseph Kiesecker, Lead Scientist for the Global Conservation Lands Program, The Nature Conservancy
Howard Rosenbaum, Senior Conservation Scientist and Director of the Ocean Giants Program, Wildlife Conservation Society
Hugo Rainey, Director of the COMBO project, Wildlife Conservation Society
Chaired by Leon Bennun, Chief Scientist, The Biodiversity Consultancy Ltd
A second panel discussion with representatives from Électricité de France (EDF), Energias de Portugal (EDP) and Shell Group, who will illustrate mitigation measures adopted at the project level to address solar and wind impacts on biodiversity. Chair and Speakers:
Etienne Bérille, Environmental and Biodiversity Manager, EDF Renewables
Sara Goulartt, Environment and Climate Deputy Directory, EDP
Koen Broker, Environmental manager, Shell New Energies
Chaired by Jan-Willem van Bochove, Senior Principal Consultant, The Biodiversity Consultancy Ltd.
A roundtable with guest speakers from UN Environment, the Initiative for Responsible Mining Assurance (IRMA), the New York State Energy Research and Development Authority (NYSERDA), the International Finance Corporation (IFC), the Gold Standard and the Integrated Biodiversity Assessment Tool (IBAT) who will share their reflections on the guidelines. This roundtable will be chaired by Giulia Carbone, Deputy Director Global Business and Biodiversity Programme, IUCN
Throughout the event, participants will be able to raise questions for the experts to consider.