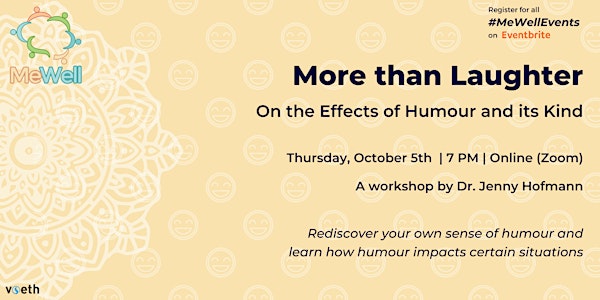 More than Laughter: On the Effects of Humor and its Kind
Have you ever wondered how important the role of humour in our daily lives actually is? Join this talk and rediscover your own humour!
About this event
There are many ways to achieve a fulfilling life, and humour can contribute to it. Humour affects well-being in two ways: By promoting positive emotions and in that skilfully living a humorous attitude can help mitigate or reduce negative feelings.
However, humour (and laughter) are not the "egg-laying lily pigs" that some popular scientific opinions would like to propagate, and in some situations the use of humour is even discouraged. In addition to empirical findings, I will show you in this workshop that humour can be trained and why it is worthwhile to (re)discover your own sense of humour. "Who laughs, still has capacities" may be a boss's wisdom, but our findings show that "who laughs, creates capacities" - at work, during your PhD, in friendships and in relationships.
About the Speaker
Dr. Jennifer Hofmann studied psychology at the University of Zurich and received her PhD on positive emotions and laughter under Prof. Dr. Willibald Ruch. She teaches at the Distance Learning University of Switzerland and at the ZHAW (Zurich University of Applied Sciences). In her consultations she tries to bring more humor and positivity to the workplace. She is also the president of the Swiss Society for Positive Psychology and wants to promote Positive Psychology, Positive Emotions and Humor at universities and in everyday learning.