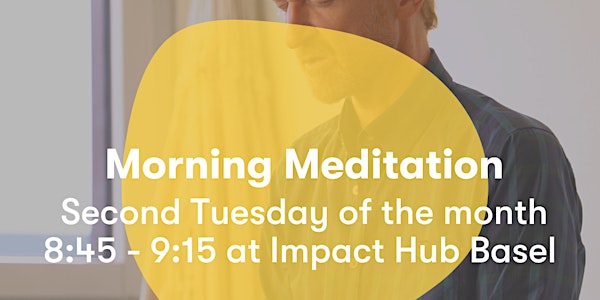 Morning Meditation and Trial Day (in collaboration with resonance)
Every second Tuesday of the month 8:45-9:15, we come together for a shared guided meditation practice, followed by a co-working trail day.
When and where
Location
Impact Hub Basel 274a Münchensteinerstrasse 4053 Basel Switzerland
About this event
"The mind is definitely something that can be transformed, and meditation is a means to transform it" - Dalai Lama
Every second Tuesday of the month 8:45-9:15 we come together at the Impact Hub Basel for a shared guided meditation or self-care practice of 15-30 minutes. Our member George, founder of resonance, leads these practices of awareness and compassion.
No prior experience required and the participation is free of charge. You are also welcome to bring your +1 who can enjoy a free-trial day at the hub.
See you there!
*******
Not a member yet:
Registration link for the Morning Meditation + Trial Day: https://airtable.com/shrNiYDynwdMz40Vr
Check out our Membership Packages here: https://basel.impacthub.net/en/become-a-member/ and email us: bookings.basel@impacthub.net
*******
Please note that by registering and participating in this event, you agree to the recording of your appearance and/or your voice, which Verein Impact Hub Basel can publish in photos, videos and accompanying sound recordings via online and offline media and for marketing purposes.