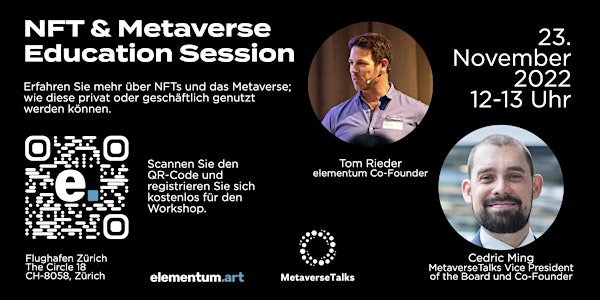 NFT & Metaverse Education Session | 23. November 2022
Erfahren Sie mehr über NFTs und das Metaverse wie diese privat oder geschäftlich genutzt werden können.
When and where
Location
Zurich Airport The Circle 18 8058 Kloten Switzerland
About this event
Möchten Sie mehr über NFTs, digitale Kunst, und das Metaverse erfahren?
Besuchen Sie am Mittwochmittag, 23. November, die elementum.art NFT Gallery für ein Input Referat von elementum Co-Founder Tom Rieder, zum Thema:
Was sind NFTs?
Wie sammle ich NFTs?
Wie kann man NFTs im Business nutzen
In Zusammenarbeit mit MetaverseTalks Vice President of the Board und Co-Founder Cedric Ming, mit anschliessender Diskussion.
Was ist das Metaverse?
Metaverse Anwendungsfälle
Geschäftliche und rechtliche Implikationen
Allen Teilnehmenden offerieren wir einen kleinen Lunch, welcher Sandwich und eine Frucht beinhaltet.
Bitte beachten Sie, dass die Teilnehmerzahl begrenzt ist, und wir empfehlen Ihnen, sich im Voraus anzumelden.
Im Anschluss haben Sie die Möglichkeit die laufende Ausstellung "Liebe Machine, mal mir" zu besuchen. Mehr information finden Sie hier.
Über elementum.art NFT Gallery
Die elementum.art NFT Galerie ist ein Ort, an dem sich Menschen treffen und Zeit verbringen wollen, um in digitale Kunsterlebnisse einzutauchen. Alle sind herzlich willkomen digitale Kunst in der wohl grössten NFT Galerie der Schweiz zu entdecken und zu erleben.
Die 380 Quadratmeter große Pop-Up-Galerie befindet sich am Zürich Flughafen, The Circle 18, nur zwei Gehminuten vom Flughafen Terminal entfernt.
Mehr Informationen finden Sie hier
elementum.art | collect the true pioneers | since May 2019
elementum.art ist eine Plattform für historisch wichtige Kunst NFTs, und wurde von den Schweizer NFT Pionieeren dloop gegründet.
Lernen sie mehr über uns auf www.elementum.art
Über MetaverseTalks
MetaverseTalks ist ein führender Ort, an dem Metaverse & NFT Vordenker und Interessierte zusammenkommen, um Ideen weltweit zu fördern und voranzutreiben.
_______
Partner der elementum.art NFT Gallery sind:
Flughafen Zürich AG | aroma | Kate Vass Galerie | SNOWCASH | Screenpro