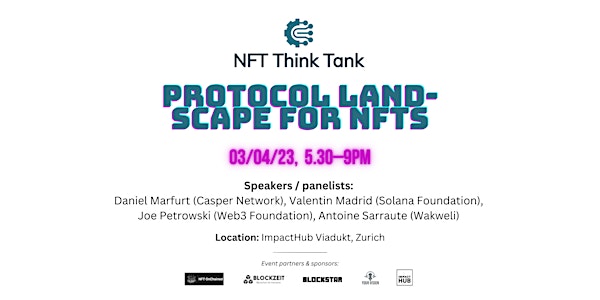 NFT Think Tank April Edition – Protocol landscape for NFTs
Join us at our NFT Think Tank event in Zurich. Topic: What are the leading protocols for NFTs? What is the right one for your use case?
Datum und Uhrzeit
Mo., 3. Apr. 2023 17:30 - 21:00 CEST
Veranstaltungsort
Impact Hub Zürich - Viadukt 93 Viaduktstrasse 8005 Zürich Switzerland
Zu diesem Event
3 Stunden 30 Minuten

Mobile E-Tickets
Are you an NFT professional or enthusiast? Then this is THE event for you. After its successful launch event in February, the NFT Think Tank presents its second NFT event in Zurich on April 3rd. Join us and connect with other NFT professionals and enthusiasts.
Topic of the event: What are the leading protocols for NFTs? How to choose the right one for your use case? At our second NFT Think Tank event, representatives from different protocols will present / discuss their solutions and answer all your questions in this regard.
Event program:
17.30 Entrance & Apéro: Mingle with fellow NFT professionals and enthusiasts
18.00 Welcome, Presentations, Panel Discussion, Q&A
Speakers / panelists: Daniel Marfurt (Casper Network), Valentin Madrid (Solana Foundation), Joe Petrowski (Web3 Foundation), Antoine Sarraute (Wakweli)
Event partners & sponsors: NFT OnChained, Blockzeit, BLOCKSTAR, Your Vision, Impact Hub
What is the goal of the NFT Think Tank?
We launched the NFT Think Tank to bring together people from the NFT space. Our goal is to build a community where NFT professionals and enthusiasts can come together to exchange ideas, listen to great speakers and discuss the future of NFTs.
Join our community now and share your NFT experience!
Über den Veranstalter
Welcome to NFT Think Tank. Come join us at our NFT Think Tank Events where you can mingle with NFT professionals and enthusiasts and learn about the newest trends in the industry.