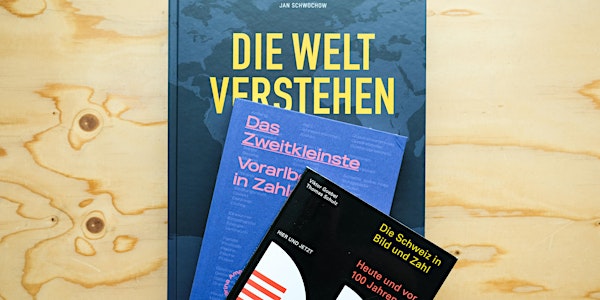 on data and design #16 – three books about data & information visualization
on data and design #16 – three books about data and information visualization
About this event
Liebe On Data and Design Community
Es wir ein ruhiges Jahr für unsere Gruppe. Jetzt sind wir bereit mit einem tollen Meetup drei Standorte; Basel, Wien und Berlin; gleichzeitig zu verbinden!
Der nächste Event wird Online stattfinden mit 3 inspirierenden Autoren, welche 3 Bücher über Daten und Design präsentieren werden. Es wird also eine Sitzung über wunderbare Bücher und die Geschichten hinter den Kulissen sein. Jeder Sprecher*in wird ein Land vertreten: Deutschland, Österreich und die Schweiz. Die Vorträge werden jeweils 15min dauern und es wird eine Diskussionsrunde mit gesammelten Fragen geben. Die Sprache wird Deutsch sein.
WICHTIG: Bitte meldet euch an, damit wir euch den Einladungslink schicken.
Und hier sind die Sprecher:
Jan Schwochow (Deutschland), Gründer von "Schwochow Visual Stories", wird sein neues Buch "Die Welt verstehen" vorstellen. Einen besonderen Schwerpunkt wird er auf Forschung und die gestalterische Genauigkeit und Richtigkeit legen.
Sarah Luger (Österreich), Gründerin von Moments of Aha, wird das Buch "Zweitkleinste" vorstellen. Sie wird einen besonderen Schwerpunkt auf die Motivation hinter dem Buch, die Datenrecherche und die Logik hinter den Diagrammtypen legen.
Thomas Schulz (Schweiz), Leiter Informationsvermittlung im Bundesamt für Statistik (Schweiz) wird sein Buch «Die Schweiz in Bild und Zahl. Heute und vor 100 Jahren.» vorstellen. Er wird ein besonderes Augenmerk auf die Gratwanderung zwischen statistischer Genauigkeit und kreativer Freiheit beim Gestaltungsprozess legen.
-----
Dear On Data And Design Community
It's been a quiet year for our group, but now we are ready to start with a new session connecting Basel, Vienna and Berlin in one event!
There will be an online meeting with 3 inspiring authors who will present 3 books on data and design. So, it will be a session about wonderful books and the stories behind the books. Each speaker will represent one country; Germany, Austria and Switzerland. The talks will be 15min each and there will be a discussion round with collected questions during the presentations. The language will be German.
IMPORANT: Please RSVP for the event, so that we can send you the online link.
And here are the speakers:
Jan Schwochow (Germany) founder of "Schwochow Visual Stories" will present his new book "Die Welt verstehen". He will put a special highlight on Research and "Gestalterische Genauigkeit und Richtigkeit".
Sarah Luger (Austria), founder of Moments of Aha will present the book Zweitkleinste. She will put a special highlight on the motivation behind the book, the data research and the logic behind the diagram types.
Thomas Schulz (Switzerland), Head of the Dissemination Unit at the Swiss Federal Statistical Office will present his book "Die Schweiz in Bild und Zahl. Heute und vor 100 Jahren." He will put a special highlight on the balancing act between statistical accuracy and creative freedom in the design process.