Dieses Event ist beendet.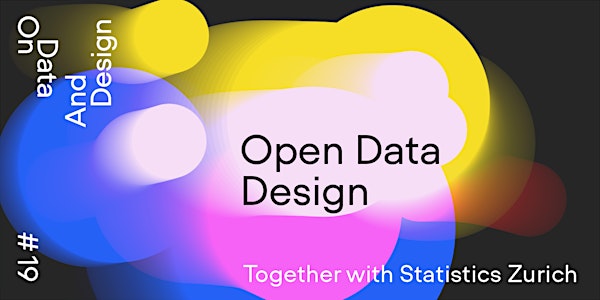 On Data And Design on September 2 – Open Data Design – hybrid event
In our next *On Data And Design* session, we explore what an Open Data Design can be.
Zu diesem Event
The purpose of Open Data is to make data publicly available to everyone. It can be freely interpreted and used by all. However, how many of us have actually used this data at least once? How many of us know about the topic of open data, but fail at the first *.csv file?
In our next *On Data And Design* session, we explore what an Open Data Design can be. Three pioneers with inspiring examples of visualization and the stories behind them will be presented.
Darjan Hil from Superdot (see https://www.superdot.studio) will moderate the next *On Data And Design* (see https://www.ondataanddesign.com) session together with Matthias Mazenauer from Statistics Zurich. (see https://www.zh.ch/de/direktion-der-justiz-und-des-innern/statistisches-amt)
This event will be held in English only.
The hybrid event will take place on YouTube Live and in Südquaistrasse 14, 4057 Basel.
And the speakers are:
Diana Krebs (Berlin), Head of the Open Government Programme, at the think tank neuland21 (https://neuland21.de/). Neuland 21 is a non-profit organisation in Bad Belzig/Brandenburg that researches and implements social and digital innovation projects in rural areas. Diana will share interesting insights and challenges of the current research project OpenDataLand, especially with a focus on good strategies on how to implement an Open Data culture at a local level.
Matteo Moretti (Bolzano), co-founder and designer at Sheldon.Studio (http://sheldon.studio), will talk about three projects: Glocal Climate Change, Mapping Diversity and Matera 2019 European Capital of culture. Matteo will share important experiences and hurdles in working with open data to empower communities and support a better-informed debate, which is the basis for all three projects.
Matthias Mazenauer (Zurich), Vice Head of the Statistical Office of the Canton of Zurich will talk about the need for data transparency of government agencies and how government agencies can enhance the accessibility of data so that people like Diana and Matteo can do their important work. He will share his own experience in advocating open government data and the obstacles and challenges he faces in his daily work.
Further Links:
Tweet at ► https://twitter.com/onDataAndDesign
Subscribe on ► https://mailchi.mp/291d4c6754ed/ondataanddesign
Eventbrite Group ► https://ondataanddesign.eventbrite.ch
Meetup Group ► https://www.meetup.com/de-DE/ondataanddesign-Switzerland/
Linkedin ► https://www.linkedin.com/showcase/71529252
Superdot ► https://www.superdot.studio/
Instagram ► https://www.instagram.com/superdot_studio/
#dataliteracy #opendata #dataviz #datavisualization #informationdesign #data #design #datascience #dataart #experiencedesign #superdot @statistik_zh