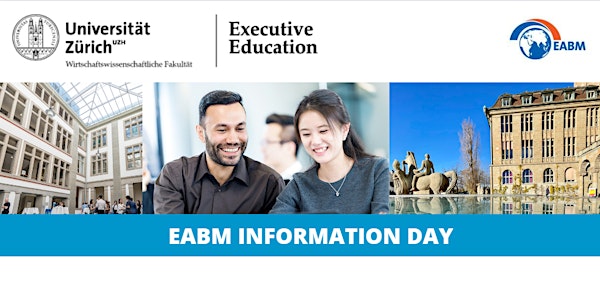 [On-site] Info Day - European and Asian Business Management Study Programs
Gain a better insight into the EABM programs, the benefits of studying at University of Zurich and the opportunity to ask questions
By UZH European and Asian Business Management
Date and time
Wed, 10 May 2023 18:15 - 19:00 CEST
Location
Affolternstrasse 56 56 Affolternstrasse 8050 Zürich Switzerland
About this event
Meet us in our Oerlikon office on May 10, 2023 to find out more about the European and Asian Business Management Study Programs.
We are a part of the University of Zurich and we offer a unique advanced study program that provides deep insights into Asian and European markets, intercultural communication and practical experience.
Our Master of Advanced Study Degree (MAS) is the result of well-defined needs of our students and the raising importance of Asian markets in the globalised world. Our professors and guest lecturers come from some of the world's top universities including University of Cambridge , University of Oxford , Singapore National University, Bocconi University, ETH and University of Zurich.
Don't miss your chance to get to know us and discover how to improve your career development. Register now!
More information about our Study Programs: EABM website
18.15-18.30 Welcome & Program introduction
"European and Asian Business Management Study Program: learn something new, connect with businesses, improve your career development."
18.30-18:45 Experience sharing by our EABM Alumni
18.45-19.00 Q&A session
* Please note that agenda may change at short notice.
Topic: Info Day - EABM
Time: May 10, 2023 18:15
Address: Affolternstrasse 56, CH-8050 Zurich (1.OG/upstairs at the end of the hallway)