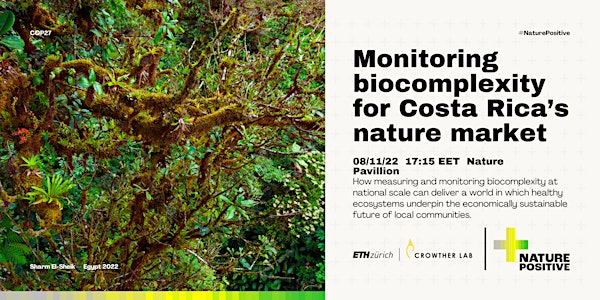 (Online) Monitoring biocomplexity for Costa Rica's nature market
Get insight into a new groundbreaking approach to measure biodiversity and leverage a nature-positive future
About this event
What do leading experts consider to be the best way forward in enabling a nature-positive future? Join Prof. Thomas Crowther, the Government of Costa Rica, Nature Finance and colleagues for a critical debate on how measuring and monitoring biocomplexity at national scale can deliver a world in which healthy ecosystems underpin the economically sustainable future of local communities.
Prof. Tom Crowther will reveal a trailblazing new approach to valuing biodiversity for any pixel on the planet. Whilst there are many individual aspects of nature that can be measured, decades of ecological research shows that the true value of nature lies in its complexity. The "SEED Index" leverages hundreds of data layers to analyse all levels of diversity (including genetic, species and ecosystems) across all organisms (plants, microbes and animals). The vision for this globally standardised measure is to bring greater transparency and trust to rapidly evolving nature markets.
In order to enable transparency and build trust, nature markets need to be centred around local communities. Top-down approaches of the past have resulted in information asymmetries that have given rise to many unfair and inequitable outcomes that ultimately put nature and human lives at risk. Costa Rica is the world's leading example of how intelligently governed and structured nature markets can protect and restore ecosystems, whilst also financially benefiting local communities, enabling a reinforcing cycle. Hear from Costa Rica on the lessons learned from their Payment for Ecosystem Services program (winner of the 2021 Earthshot prize), and how they might incorporate emerging ways of valuing nature.
Participants:
Prof. Tom Crowther (Crowther Lab, ETH Zurich)
Giacomo Delgado (Crowther Lab, ETH Zurich)
Alexa Firmenich (SEED, ETH Zurich)
Marcelo Furtado (Principal at Nature Finance)
Clara Rowe (Restor)
Key takeaways:
Have a frontline seat for the reveal of a groundbreaking approach to measuring biodiversity, including insights from one of the world's largest bioacoustic monitoring projects
Learn about a replicable, nation-wide program that successfully brought back nature together with financial incentives in a virtuous regenerative cycle.