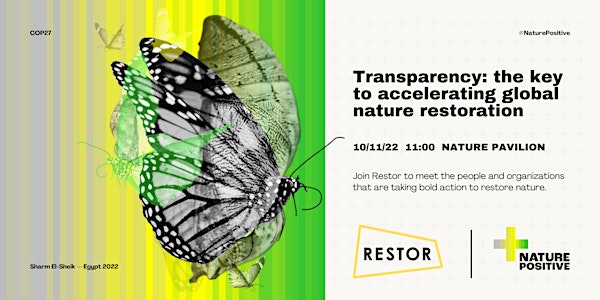 ONLINE — Transparency: the key to accelerating global nature restoration
Join Restor online to hear from the people and organizations that are taking bold action to restore nature.
About this event
Restoration is a nature-based solution that benefits people, biodiversity, and the climate. Managed in ecologically and socially responsible ways, the restoration of forest ecosystems alone has the potential to draw down ~30% of accumulated global carbon emissions, improve food security for more than 1.3 billion people, and avoid 60% of expected species extinctions. Accelerating restoration can accelerate progress toward the Sustainable Development Goals and national climate commitments.
From the Bonn Challenge to trillion trees campaigns to net zero commitments, governments, businesses, and civil society organizations across the globe have pledged to conserve, protect, sustainably manage and restore ecosystems. Bringing transparency to nature restoration action is critical to catalyzing the innovation and investment needed to ensure planetary resilience.
In this session, Restor will showcase the leaders taking bold action to restore nature. These voices — both in the room and joining us from across the globe — will reveal how transparency drives learning, impact, and transformation from the field to the boardroom.
You will be inspired by the diversity of restoration action already underway.
Join us and see how transparency and connectivity accelerate the restoration of nature!
During this event you will hear from:
- Clara Rowe, CEO, Restor
- Christiana Figueres, Climate Optimist
- John Lotspeich, Executive Director, Trillion Trees
- Sebastian Troeng, Executive Vice President, Conservation Partnerships, Conservation International
- Jad Daley, President and Chief Executive Officer, American Forests
- Severin Kalonga, Lead, WWF Forest Landscape Restoration in Africa Initiative
- Teresa Muthoni, Africa Project Manager at One Tree Planted
- Sean DeWitt, Director, Global Restoration Initiative, World Resources Institute
- Raditya Andrean Saputra, Director, Indonesia Biru Foundation
- Iðunn Hauksdóttir, Wetland Restoration Project Manager, Landgræðslan / Soil Conservation Service of Iceland
- Eva Makandi, Founder, Light On A Hill Organization
- Tim Christopherson, Vice President, Climate Action, Salesforce
-  Rebekah Braswell, CEO, Land Life Company
Please note, the final line up might be subject to last minute changes.