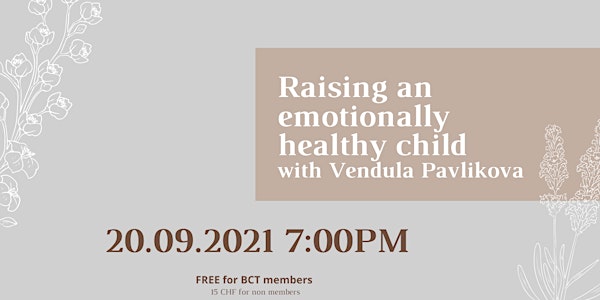 Online workshop: Raising an emotionally healthy child
About the workshop
About this event
By attending this 60-minute webinar you will discover the reasons why emotional intelligence matters in parenting and the basics of emotions; how to cultivate emotional intelligence at home and some practical tools for developing it.
About Vendula Pavlikova
Certified Emotional Intelligence specialist for adults and children, attended the University of Cambridge Life Coaching Distance Learning Program and a certified ambassador of Kimochis - social-emotional learning program for children.
https://www.vendulap.com/
In order to receive free access to the workshop, BCT MEMBERS can click the blue "promo code" link above and enter their email address as a promo code. If the membership is active a 100% discount will automatically be applied.
To check the status of your membership or join the BCT please go to: https://www.joinit.org/o/basel-childrens-trust