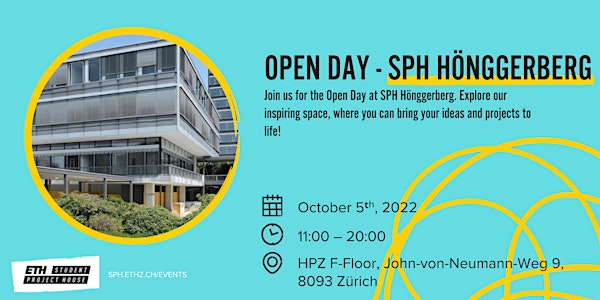 Der Ticketverkauf endet bald
Open Day - SPH Hönggerberg
Join us for the Open Day at SPH Hönggerberg. Explore our inspiring space, where you can bring your ideas and projects to life!✨#event #home
Zeit und Ort
Veranstaltungsort
Student Project House - HPZ HPZ - F-floor John-von-Neumann-Weg 9 8093 Zürich Switzerland
Karte und Wegbeschreibung
Zu diesem Event
Interested in getting to know us? We invite you to check out our space! We support students and their ideas, no matter how big or small! 🎉
We have multiple activities planned for you. You can make your own laptop stickers, create ice cube trays or interact with our projects in our project fair! Choose the time slot that suits you best and drop in (please only register for one slot).
What should you bring? Enthusiasm and curiosity to experience the new space, all whilst enjoying free ice-cream 🎈.
Looking forward to seeing you there!
Your SPH Team
P.S. If you would like to create your very own laptop sticker, you're welcome to bring your own vector-graphic design on a USB stick!
Der Ticketverkauf endet bald