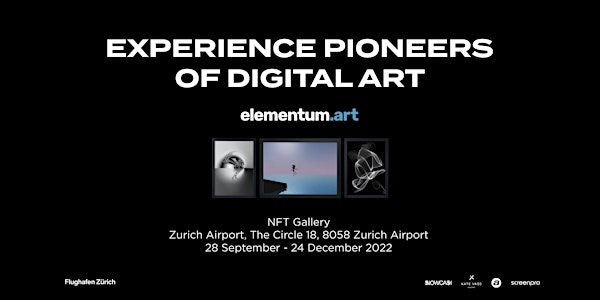 Opening | elementum.art NFT Gallery | Zurich Airport - The Circle
Vernissage | Aaron Huey "Edges of the Metaverse" | elementum.art NFT Gallery, at Zurich Airport, The Circle 18 | Sep 28, 2022 (18:00-21:00)
When and where
Location
Zurich Airport, The Circle , Nr. 18 Zurich Airport The Circle 18 8058 Zurich Switzerland
About this event
We are delighted to announce the inauguration of elementum.art NFT Gallery opening at Zurich Airport, The Circle 18 on Wednesday, September 28 (18:00-21:00) with the exhibition "Edges of the Metaverse" by the photographer and new media artist Aaron Huey.
The curated selection of Aaron Huey's latest photographic series as NFTs was born out of a National Geographic magazine assignment, where Aaron Huey explores the far edges of virtual worlds, bringing back photographs made with virtual cameras.
Aaron Huye has created over 30 stories for the National Geographic magazines including several cover stories and is also leading new projects for Nat Geo from VR and AR to metaverse spaces. Aaron Huey is currently on assignment for Nat Geo in the metaverse, photographing (via his many avatars and various virtual cameras) the far edges of virtual worlds. Aaron Huey is a three time Stanford Fellow, a current artist in residence at Unfinished.org, and was recently named a Stanford Starling Lab Fellow where he is mapping Web3 ecosystems and new frameworks for data integrity, specific to photography.
Programme of the Vernissage
18:00 Door opening
19:00 Welcome words
19:10 Curators introduction
19:20 Artist Talk (TBC)
21:30 Last drink
About the elementum.art NFT Gallery
The elementum.art NFT Gallery is a place where people want to go, meet up and spend time to immerse themselves into digital art experiences. Whether it is a place for the NFT and art community to connect, or for art lovers and visitors of the Circle at Zurich Airport to explore the elements of NFTs and digital art.
Spanning over 380 square meters, the elementum.art NFT Gallery is situated at The Circle 18; a two-minute walk from Switzerland's largest international airport renowned for its quality of stay and for high-end shopping and dining experiences. Our immersive space will not just reflect the zeitgeist, but will also foster an understanding of our historical past with historical NFTs and from the perspective of present circumstances, with a view towards the future. We have planned a diverse programme; through networking events, talks, and exhibitions, evolving around the topic of digital art and showcasing a range between historical NFTs and releases - as well as live mints.
Find more information here
RSVP to attend the free opening on Wednesday, 28th of September (18:00-21:00)
_______
elementum.art | collect the true pioneers | since May 2019
elementum.art is the home of exceptional art. We empower artists and art enthusiasts to buy, trade and exhibit art online. Our curators select established and emerging artists from all over the world for our platform.
Learn more about us at www.elementum.art
For all the latest news and announcements, follow elementum on Twitter @elementumart and join our telegram group elementum.art
_______
Partners of the elementum.art NFT Gallery include:
Flughafen Zürich AG | aroma | Kate Vass Galerie | SNOWCASH | Screenpro