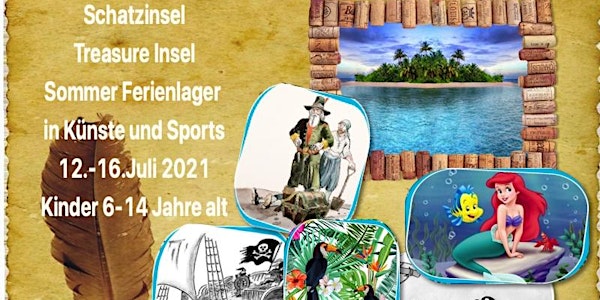 Performance and Visual Arts Camps-Schulferien Lager für Kinder (7 bis14 Ja)
1 Woche FERIENLAGER: Theater, Tanz, Yoga, Kostüm/ Bühne-Bild, Singen 1 Week Holiday Camp: Performance & Visual Arts, Yoga, Music
When and where
Location
ART POINT Studio Herrengasse 8 8853 Lachen Switzerland
About this event
Eine Reise zur Kreativität, Erfolg und Glück
1 Woche FERIENLAGER - Theater, Tanz, Yoga, Kostüm/ Bühne-kreation, Schminken, Malen, Bühnen-Gestaltung, Foto-shooting
Die Kinder können ihre Talente entdecken und die Fähigkeiten der Zukunft entwickeln.
Unser Camp ist geeignet für Kinder von 7 bis 14 Jahren mit Interesse an Musik, Tanz, Theater und bildender Kunst. Sprachen: Deutsch & Englisch.
Während einer Woche in den Schulferien erstellen wir ein Projekt zu einem bestimmten Thema und arbeiten mit verschiedenen Kunstformen wie Tanz, Malerei, Theater, an einer kleinen Performance zum Thema. Auf diese Weise können die Kinder verschiedene Dinge ausprobieren und ihre Talente und Interessen entdecken. Wir haben viel Spaß und unvergessliche Momente mit neuen Freunden und Erfahrungen!
Ein Camp dauert 5 Tage, Montag bis Freitag.
Begin: 9:00 Uhr, Ende: 16:00 Uhr
Möglichkeit für Kinderbetreuung ausserhalb dieser Zeit nach Absprache - bitte reservieren Sie separat.
Ort: unser ART POINT Studio in der Herrengasse 8, 8853 Lachen und im Freien in der Region Lachen
Kontakt: Svetlana Steiner
Email: info@art-point.org, Tel: +41.79.28.62.134,
Website: www.art-point.org
****************************************************************
A journey to creativity, success and happiness
1 Week Holiday Camp - Performance & Visual Arts
Theatre, Dance, Yoga, Costume design and creation, Make-up, Paint & Crafts, Props and Stage creation, Photo-shooting
The children can discover their talents and develop the skills of the future.
Our camp is suitable for children from 7 to 14 year old with interest in the music, dance, theatre and visual arts. Languages: German & English.
During one week in the school holidays we create a project on specific topic and work with different art forms (dance, painting, drama, etc) towards creating a small performance on the topic. This way the children can try different things and discover their talents and interests. We have a lot of fun and unforgettable moments with new friends and experiences!
A camp is 5 days, Monday to Friday
Start: 9:00, end: 16:00
with possibility for day-care outside of these time upon arrangement. Please book separately.
Location: our ART POINT studio at Herrengasse 8, 8853 Lachen and outdoors in the region of Lachen
Contact: Svetlana Steiner
Email: info@art-point.org, Tel: +41.79.28.62.134,
Website: www.art-point.org