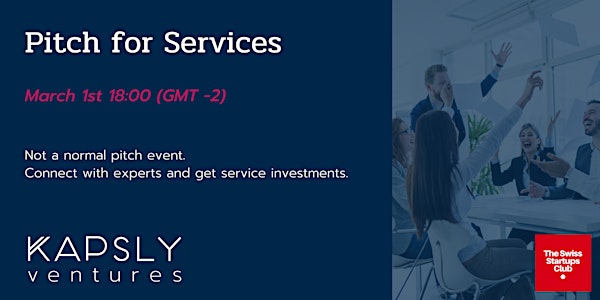 Pitch for Services the Service-for-Equity Matchmaking Event
Startups pitch in front of experts to get operational feedback and maybe even service investments.
About this event
Do you work with startups and would like to accept equity as part of the compensation? Then this event is for you.
KAPSLY Ventures helps early-stage startups with service-for-equity deals and enables service providers to build their startup portfolios.
Service providers/agencies in the following areas are especially welcome:
Software development
Robotics
UI/UX design
Online Marketing
Sales
Healthcare related services
Business strategy services
At this online event, selected startups will pitch what resources they really need for their business and what they want to achieve with it. Experts will provide feedback and might offer their help. You can also get in touch with the founders directly and offer your services.
The startups will be announced shortly before the event. If you are a startup and want to pitch at a future event, please apply here.