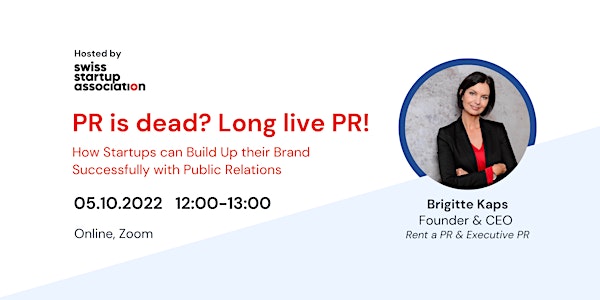 PR is dead? Long live PR! How to build your startup brand with PR
How Startups can build up their brand successfully with Public Relations
About this event
Join us and Brigitte Kaps, Founder and CEO of Rent a PR and Executive PR companies, for this long-awaited session on Public Relations for Startups: PR is dead? Long live PR! How Startups can build up their brand successfully with Public Relations.
Brigitte Kaps holds a Master of Advanced Studies in Business Communications (HWZ, MAZ & LSE) and a degree in communications science from the Frankfurt University of Applied Sciences. She has almost 20 years of international experience in management positions with leading foreign banks (ABN Amro, GE, RBS).
Before becoming self-employed in 2015, she was responsible for corporate communications at Cembra Money Bank (formerly GE Money Bank) in her capacity as a member of the Executive Board.
You can expect open discussion with startup use cases, and entrepreneurs learn about the essential know-how of PR, which is required to build up a company's brand:
Tools and Channels
PR challenges of Technology and Scientific startups
Tips & Tricks for media work
.. and much more!
Follow the Swiss Startup Association on LinkedIn to stay up to date with our upcoming events!