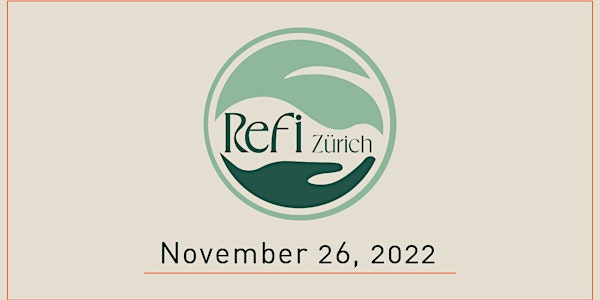 ReFi Zurich Fall Gathering
The First ReFi Gathering in Zürich, Switzerland.
When and where
Location
Rämistrasse 59 59 Rämistrasse 8001 Zürich Switzerland
Refund Policy
Contact the organizer to request a refund.
About this event
Regenerating the planet is humanity's collective 21st-century project.
ReFi Zürich is a community gathering, bringing together some of the most beautiful minds in art, technology, restoration, and social warriors—all connected by the spirit of Web3 and ReFi. We want to foster an environment for the emerging ReFi community to meet and grow.
The magic always happens on the fringes.
What do you get for buying a ticket?
Full-day access to the event
Food and beverages included (breakfast and lunch)
An exclusive digital visitor pass/proof of attendance that might be valuable for future ReFi Zürich events
Program
0900
Arrival
1000
Opening Address
Opening Keynote "Systems Change—The World After Tomorrow" by
Rudolf Hilti (The Hus, Systems Change Foundation) &
"How Decentralized Technologies Provide The Building Blocks for a Regenerative Society" by
Ralph Horat (Next Generation Village)
1045
Panel "Evolution of the On-Chain Carbon Market"
Wassim Sahibi (SCB Group),
Pere Guerra (Kakubi AG)
Katherine Foster (Green Digital Finance Alliance)
Julian Sommer (Toucan Protocol)
Alasdair Were (IETA)
1145
Panel "Science To ReFi"
Kristy Deiner (SimplexDNA, ETH Zürich)
Yannick Zehnder (CEVEN, ReFi Zürich)
David Dao (GainForest)
1215
Regenerative Money: Money by the people, for the people.
Gesa Feldhusen (Dezentrum)
1230
Lunch Break
1430
Panel "Innovations for Better Environmental Markets"
Martin Krung (Kumo)
Frederic Fournier (Open Forest Protocol)
Julian Sommer (Toucan Protocol)
Miles Austin (Hyphen)
Kristy Deiner (SimplexDNA)
1530
Panel "Future Of Food"
Inea Lehner (ETH Zürich)
Leo Caprez (Brainforest)
Mark Zahran (Yasai)
Paula Palermo (Impacta Finance)
1630
ReFi On The Ground With Joe Brewer (Earth Regenerators)
& Daniela Herrmann (Topan, MapuFin)
1715
Closing Keynote by Philip Berntsen (Frigg, UZH)
1800
Closing Address