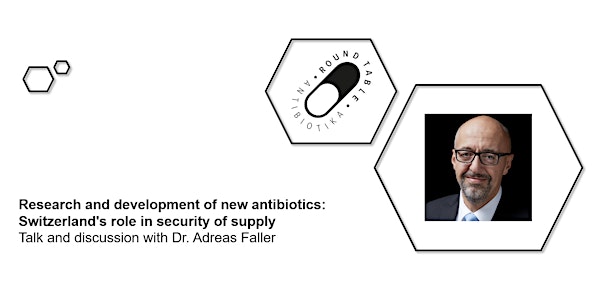 Research and development of new antibiotics - Keynote by Dr. Adreas Faller
Event Information
Location
Swiss Institute for Translational and Entrepreneurial Medicine (sitem-insel)
Room O2.214, Freiburgstrasse 3
3010 Bern
Switzerland
The Round Table Antibiotics kindly invites you to a keynote by Dr. Andreas Faller.
About this event
Agenda
12:00-13:00 Keynote by Dr. Andreas Faller
13:00-14:00 Small Apéro
About Dr. Adreas Faller
Andreas Faller (*1966) studied law at the University of Basel, passed the bar exam in 1994 and he practised as a lawyer from 1994 to 2001. From 2001, he worked for the Basel-Stadt Health Department, first as Secretary General and Head of Legal Services, and from 2006 as Head of Health Services. He managed the cantonal medical service, the therapeutic products department and the health promotion/prevention and addiction departments, and was in charge of the "eHealth", "cross-border cooperation" and "senior citizens' policy" dossiers. As Secretary General, he was responsible, among other things, for the canton's public hospitals and represented the Department of Health in steering committees of various private hospitals.
Later, Andreas Faller was Vice Director and Head of the Health and Accident Insurance Directorate at the Federal Office of Public Health in Bern where he was responsible for the supervision of health insurers and the approval of health insurance premiums. There, he was in charge of many important topics, such as the authorisation and pricing of medicines, the outpatient tariff system, the introduction of DRGs, the management of physician licenses, managed care, quality assurance or health technology assessment. He also chaired the Federal Commission for General Benefits and Questions of Principle (ELGK), the Federal Drug Commission EAK and the Federal Commission for Analyses, Means and Objects (EAMGK).
Since 2013, Andreas Faller has worked as a lawyer and consultant in the healthcare sector, managing director of three national healthcare associations and as a consultant to another association at national level. For further information, please consult his website: www.andreas-faller.ch
About the Round Table Antibiotics
The Round Table Antibiotics is a Swiss non-profit interdisciplinary association gathering experts from medicine, research, and economics of almost all Swiss universities, as well as committed personalities from industry or elsewhere. The aim of the Association "Round Table Antibiotics" is to drive Switzerland's contribution to innovation, research, and development of measures against antimicrobial resistance.
Learn more about the Round Table Antibiotics:
Date and time
Location
Swiss Institute for Translational and Entrepreneurial Medicine (sitem-insel)
Room O2.214, Freiburgstrasse 3
3010 Bern
Switzerland