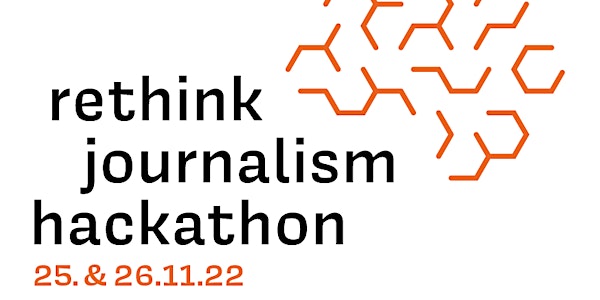 Rethink Journalism Hackathon 2022
Arbeite mit uns am 25. und 26. November beim zweiten Rethink Journalism Hackathon in Basel an der Zukunft von Journalismus und Medien!
When and where
Location
KLARA 13 Clarastrasse 4058 Basel Switzerland
About this event
All infos, program, partners you can find here: https://opendata.ch/events/rejoha22/
English version below
Der Journalismus hat sich in den vergangenen Jahren bereits mehrmals neu erfunden. Kleine, progressive Medienunternehmen stürmen nun in den Kampf um die Aufmerksamkeit. Komm und fördere mit uns progressiven Journalismus. Hilf mit im Kampf gegen Fake News und Hate Speech.
Melde Dich jetzt für den zweiten "Rethink Journalism Hackathon" an und entwickle in interdisziplinären Teams neue digitale Lösungen für eine informative, unabhängige und vielfältige Medienwelt.
- Du bist eine*e leidenschaftliche*r und engagierte*r Mediennutzer*in und willst Deinen Beitrag zur Zukunft und Verbesserung der Medienwelt leisten. Für eine vielfältige Schweizer Medienwelt und für Dich selbst.
- Du bist ein Medienprofi – und Journalismus ist für dich mehr als nur ein Job! Du willst deine und die Zukunft der Medien mitgestalten.
- Du bist Coder*in! Du liebst es, in alle Richtungen zu denken und hast Spass am Programmieren ohne viele Einschränkungen
***
Come work on the future of journalism & media at the second Rethink Journalism Hackathon in Basel on November 25-26th!
Over the past decades journalism has been continuously reinventing itself. Small and innovative media establishments charge into battle for attention. Come and join us in the quest to stimulate and promote progressive journalism. Help us in the fight against fake news and hate speech.
Sign up now for the Rethink Journalism Hackathon and develop in interdisciplinary teams new digital solutions for an informative, independent and diverse digital media world.
- You're a passionate and engaged media user, keen and willing to contribute to its future and improvement. For a diverse Swiss media world and for yourself.
- You're a media professional - and journalism is more to you than just a job to you! You want to shape yours and the future of media.
- You're a coder! You love thinking in to all directions and enjoy programming without many restrictions.