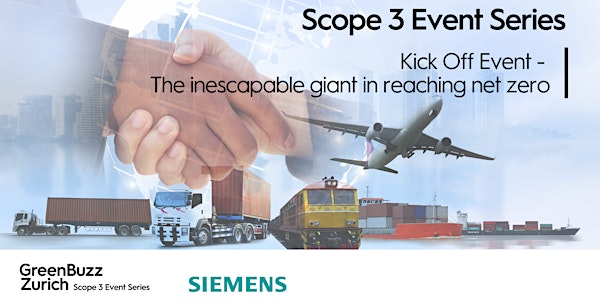 Scope 3 Kick Off Event - The inescapable giant in reaching net zero
Join us on March 30th at the Siemens HQ in Zug to learn more about Scope 3 emissions and the biggest challenges in tackling them!
Date and time
Thursday, March 30 · 6 - 9:30pm CEST
Location
Siemens Schweiz AG Theilerstrasse 1a 6300 Zug Switzerland
Refund Policy
Contact the organizer to request a refund.
About this event
We are excited to kick off our Scope 3 Event Series with our Partner, Siemens!
With our Scope 3 Event Series, we aim to address the significant challenges companies face in achieving net zero along their entire value chain (Scope 3). In this first event, we want to give a general overview of what Scope 3 emissions are, discuss the challenges in tackling them, and their importance in the bigger scheme of things to reach the global decarbonization targets.
A company's greenhouse gas (GHG) emissions are distinguished between different categories, or so-called "scopes" - Scope 1, Scope 2 and Scope 3. While Scope 1 emissions are caused directly by a company through its operating activities, Scope 2 emissions are generated indirectly through the purchase of electricity, for example, for cooling or heating buildings. Scope 3 emissions, on the other hand, are emissions that are not directly associated with the company but that the company is still indirectly responsible for, up and down its value chain. And this is where it gets tricky!
Scope 3 emissions could, for example, stem from buying products from its suppliers, from its products when customers use them or from the operations of a company's investments and they are divided into 15 categories as laid out by the Greenhouse Gas Protocol (pages 34-37).
These emissions are not only the most difficult to account for, but also the most important to tackle. In terms of emissions, Scope 3 is almost always where a company has the largest footprint. Only by reducing emissions along the entire value chain (up- and downstream), can a company truly achieve net zero emissions.
Break-out Discussions will be:
Working with suppliers, especially SMEs
How to ensure data is reliable
Complying with regulation
Cost - Who pays for the transition?
Buy-in from Management and employees
Join us on March 30th, 2023, at the Siemens HQ in Zug to learn more about Scope 3 emissions and the biggest challenges in tackling them!
About the organizer
Website: https://www.greenbuzz.global/zurich/organiser/greenbuzz-zurich-2/