Seminar Digital Leverage - Winning the Market in China
Digital Leverage - Winning the Market in China
About this event
In this seminar we will explore the Digital Business landscape in China today. With the Chinese market being highly digitized, it is essential for local businesses to leverage digital media and the latest technologies in a strategic way. However, they can unlock the success of a brand only through a deep understanding of the market and of its culture.
Liang Leon Wang will be sharing these insights by analyzing four case studies:
1. The rise of China's idol economy
2. Apple Watch's failure to defeat SWATCH
3. How a little known British kitchenware brand was able to shine in China
4. How the new brand Jiang Xiao Bai outdid the oligopoly-like market in China
Mr. Wang is the founder of the EdTEch start-up Cvic.AI, a company specialized in the processing of AI-assisted job applications based in Lausanne.
Mr. Wang worked in China at Baidu and China International Capital Corporation (CICC),
where he served as a senior business analyst and market intelligence analyst.
ADDITIONAL INFORMATION
Place : UZH Main Campus
Address: Rämistrasse 71, 8001 Zurich
Room: KOL-F-101
This is a free seminar.
Online pre-registration is required.
Pre-registration open until October 25, 2021.
Limited number of spots available.
3G COVID regulations will be applied.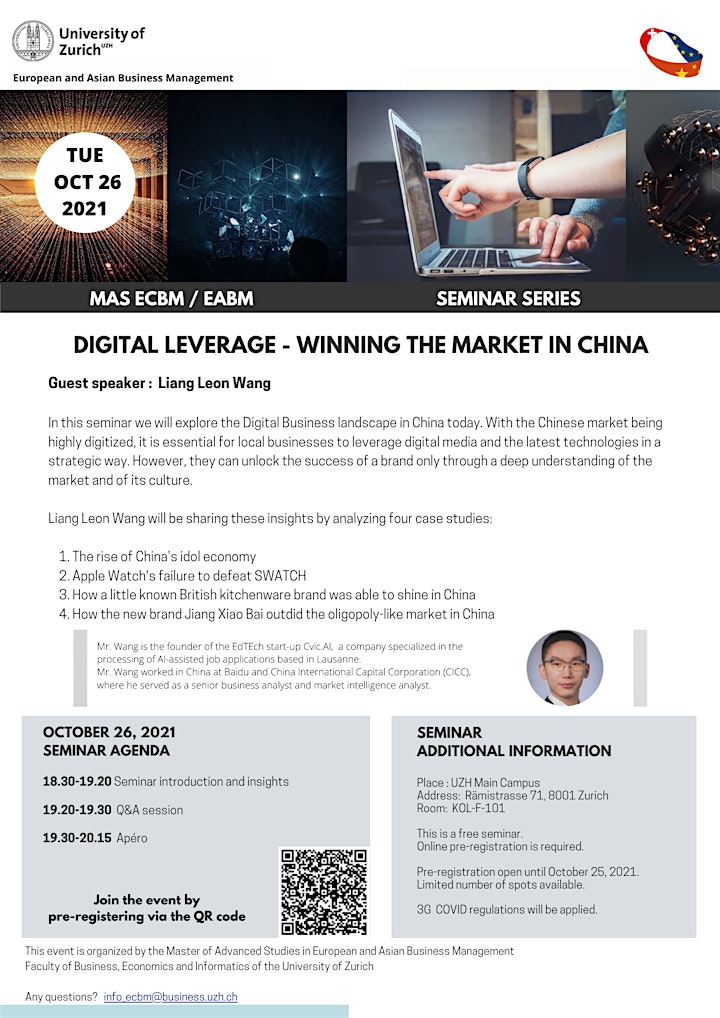 Organiser of Seminar Digital Leverage - Winning the Market in China