Dieses Event ist beendet.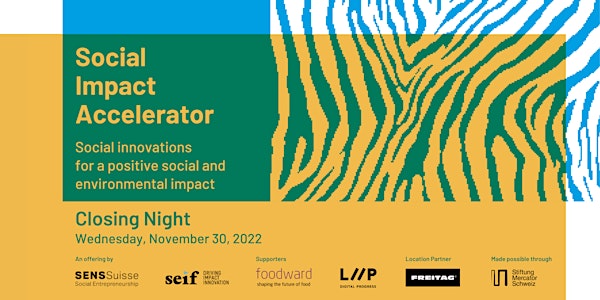 SIA Closing Night
Join us and get inspired as the 10 startups in this year's Social Impact Accelerator program present their strong cases.
Zeit und Ort
Veranstaltungsort
FREITAG lab. ag 170A Binzmühlestrasse 8050 Zürich Switzerland
Karte und Wegbeschreibung
Zu diesem Event
The Social Impact Accelerator Program (SIA) is a twelve-week program for startups with social innovation at their core and a self-sustaining business model. It is the second edition of the program with the goal of helping them professionalize and effectively scale their impact. After an intensive period with modules on impact management, business modeling, funding strategy and organizational structures, during which participants were also accompanied by mentors and coaches, the startups are ready to present their compelling case to a wider audience at this closing event.
In addition to the pitches of the participating startups, this evening will reflect on the SIA program and funding strategies for social startups, and provide a platform for exchange during the concluding apéritif.
This final event of the SIA is open to the public and is aimed in particular at impact investors, philanthropists, social entrepreneurs and social enterprises, representatives of foundations, startups, corporates, education and policymakers.
********************
Get to know the startups:
CLOUDBURST
Our mission is to make fair and circular clothing the new normal and make a positive social impact through our profits. That's why cloudburst produces durable clothing made from European organic raw materials and produced entirely in the EU under fair conditions. At the same time, a percentage of sales is given to charities for specific humanitarian projects. Cloudburst is committed to bringing change to everyone's wardrobe and challenging conventional linear production and trade methods.
MUSIK-SPITEX
Musik-Spitex is a service providing home concerts of professional musicians for disabled elderly and younger people. The mission is to enable cultural inclusion for people who can no longer participate in public events. In doing so, we seek to alleviate loneliness, reach out to people with dementia and create happy moments for them and their carers. In addition, we offer musicians new concerts and performing opportunities.
VEREIN HELFERHERZ
With our digital platform and integrated gamification, we connect social volunteering with young people. We enable spontaneous as well as regular volunteering with the right organization. In this way, we provide organizations with access to new segments, at the pulse of young people's spontaneous and flexible lifestyles. Our mission is to make social volunteering more attractive for young people and thus contribute to a positive social impact.
DEVELOPMENT WORKSHOP
The Development Workshop is an NGO that develops land for the urban poor in response to the rapid growth of slums in southern Africa. We develop residential land with basic infrastructure and sell it to low-income urban residents. Secure ownership of land allows our clients to build their homes incrementally, providing access to fundamental resources as an alternative to settling in slums. Our goal is to find the most innovative, effective and efficient ways to make human settlements more sustainable and inclusive.
JOFI GMBH
The goal of Jofi is to bring together apprenticeship seekers and companies for a joint successful professional future. In this way, the platform aims to promote equal opportunities and reduce unemployment. Jofi enables training companies to contact and hire suitable, pre-selected candidates from a pool of students through interest-based matching. Students create a meaningful application profile and decide for themselves which companies will have access to their data.
STURZZENTRUM
SturzZentrum Switzerland reduces fall-related disabilities and premature deaths with a novel fall prevention service. To this end, knowledge from research is disseminated to the population with the help of expert speakers on fall prevention. During these presentations, evidence-based and easily accessible fall prevention strategies will be presented. SturzZentrum Schweiz has set itself the task of building a bridge between the findings of fall prevention research and the state of knowledge of the population.
KALEIO
We are an encouraging and inspiring print magazine for girls between the ages of 8 and 13, free of advertising and limiting stereotypes. The content is focused on articles, science experiments, games and positive female role models. In addition, KALEIO is a platform for parents, teachers and other interested parties on topics such as the empowerment of girls, equal opportunities and diversity. Our vision is to focus on individual abilities while promoting self-confidence and skills. We strive for a society in which gender or social and cultural background does not determine who you are.
SPRING ACT
Spring ACT combines human rights and technology to help eliminate global social injustice. The product - "Sophia" - is the world's first chatbot to help victims of domestic violence gather potential evidence, assess their rights, and learn about options for how to proceed. This product is designed to work globally, around the clock, anonymously, and most importantly, without leaving any digital traces. Since its launch, over 9000 people have chatted with Sophia.
ASYLEX
AsyLex is a Swiss NGO providing free online legal advice for refugees. We have a team of 150 volunteers and a small (paid) office team that has assisted more than 5,000 clients in the last 5 years. It is our vision that any asylum seeker in Switzerland knows the basics of the asylum procedure, is aware of the criteria for asylum and has access to legal advice at any time. From Switzerland, we have expanded our work to countries such as Italy, Greece and Lebanon. Our goal is to provide access to justice for asylum seekers and refugees on the international level, as most vulnerable people do often not have access to legal counsel.
STREAM BY STREAM
Stream by Stream supports and encourages young, talented, independent musicians to give them the chance to make a living from their art. Free playlists are offered on different music platforms. This not only promotes culture but also has a positive ecological impact, as the revenue finances reforestation projects. The mission is to prove that social, cultural and philanthropic approaches can contribute to sustainability goals.