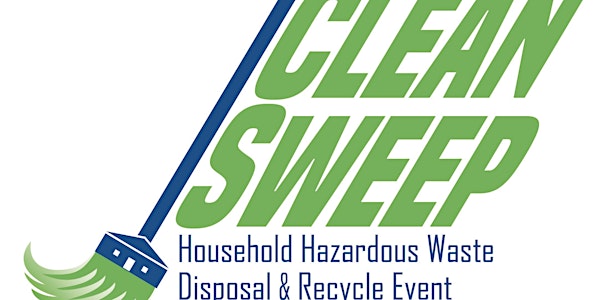 SOLD OUT! FRIDAY, August 12, 2022 Clean Sweep Event!
Location
El Paso County Household Hazardous Waste Facility
3255 Akers Drive
Colorado Springs, CO 80922
Sales Have Ended
Registrations are closed
We are sorry! This event is booked. You may add yourself to waitlist by hitting the 'Register' button (based on availability). You may also call 719-520-7878 or email KellieMeyer@elpasoco.com for other referrals. [NOTE: If you ONLY have to drop off paints, chemicals, batteries, or smaller electronics, please schedule a FREE weekday appointment by contacting the above number or email.]
Hard-To-Recycle Event for El Paso & Teller County Households!
About this event
El Paso County is hosting a Free Hard-to-Recycle event on FRIDAY, August 12, 2022 at the El Paso County Household Hazardous Waste Facility (HHWF) located at 3255 Akers Dr. Colorado Springs, 80922. In order to provide a service to El Paso & Teller County household residents, the HHWF will be hosting the event to dispose of mattresses/box springs, tires, and most electronics. To prevent long wait times and assist with traffic congestion, an appointment time is required. You must bring your ticket either on paper or your electronic device. One ticket and timeslot per household allowed. Duplicates will be deleted. El Paso and Teller County households only. Business waste not accepted (includes schools, churches, nonprofits, etc.)
NOTE: To drop off paint, lawn/garden products, household chemicals, TVs (CRTs 20" and smaller & flat screen 40" and smaller diagonally) etc. please make an appointment for a FREE routine drop-off at the hazardous waste facility by clicking this link. (Clean Sweep events are mainly for larger TVs, tires, mattresses)
✔ Items accepted at the Clean Sweep event include:
ELECTRONICS: Any size televisions & computer monitors (limit is THREE [3] total TVs and/or monitors any size), CPUs, keyboards & mice, printers, fax machines, notebooks, ultra-books, net books, electronic tablets, DVD players, VCRs, radios, stereos, video game consoles, video display devices with viewing screens greater than 4" diagonally.
MATTRESSES/BOX SPRINGS: Limited to SIX[6] total pieces.
TIRES: Light truck and passenger tires will be accepted (limit is NINE [9] per vehicle and may be on rims).
✗ Items NOT accepted at the event include:
Air Conditioners, Ammunition, Appliances, Asbestos, Business Waste (includes schools, churches, nonprofits, etc.), Cables/Wires NOT attached to anything, Carpet/Rugs, CELL PHONES, Containers larger than 5 gal, Fans, Freezers, Furniture, Heaters, Home media items (CDs, DVDs, VHS tapes, cassettes, etc.), Lab grade/Industrial chemicals & products, Landline Phones, Lawn mowers, Medical Tools/Supplies, Medications, Microwaves, Propane cylinders larger than 1 lb., Refrigerators, Remote Controls, Satellite dishes, Snow Blowers, Speakers, Trash, Unlabeled or leaking containers.
Any unacceptable items may be rejected. This list is not all-inclusive and is subject to change. If you have an item that you do not see on either list, call 719-520-7878 or 719-520-7879 for acceptance criteria.
❤ Monetary donations to Care & Share will also be accepted, but not required. CASH OR CHECK ONLY. (No credit cards or canned/packaged food donations. To donate food items, you may visit careandshare.org/findfood for a pantry nearest you)
TERMS & CONDITIONS
HOUSEHOLD HAZARDOUS WASTE LIABILITY RELEASE & CERTIFICATION STATEMENT: I hereby declare and affirm of my own personal knowledge that the items delivered to the El Paso County Household Hazardous Waste Collection Facility was, in fact, generated through household use and is not business or commercial subject to federal or state waste regulations. I understand that should I surrender any data containing device to the El Paso County Household Hazardous Waste Facility for recycling it is solely my responsibility to protect my personal information. I further agree to defend, indemnify, and hold El Paso County harmless from and against any and all liabilities, demands, claims, damages, suits, judgments and decrees, and court awards including costs, expenses and attorneys' fees, on account of injuries to or death of any person or persons or damage to any property or personal information arising out of or related to my willful misconduct or negligent acts, errors or omissions for the duration of my participation. I understand that the items will be accepted at the Household Hazardous Waste Collection Facility in reliance on the accuracy and truth of my foregoing declaration / affirmation.