Dieses Event ist beendet.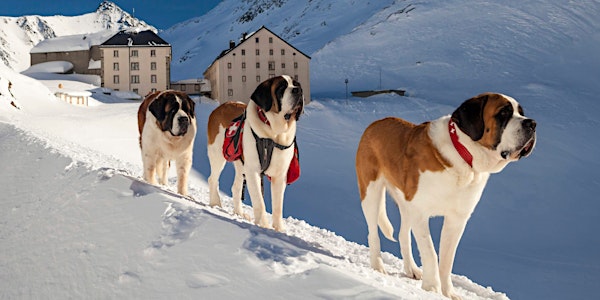 St Bernards Snow Shoe Pilgrimage 3 Day 2 Night
A beginner's snowshoe experience, completing the famous pilgrimage to St Bernard's Monastery. You'll also visit Barryland !
Zeit und Ort
Veranstaltungsort
Martigny, Gare Martigny 1920 Martigny Switzerland
Karte und Wegbeschreibung
Zu diesem Event
This two-night, two-day experience allows you to have fun and outdoor adventure as a group. This is an ideal trip to meet new people and have a new experience.
You will be met at Martigny train station or at the accommodation depending on your transport choice. Once the group is together at the accommodation you will be given dinner and an "apéro". You will also learn about all the equipment you need to be safe in the mountains in winter. We stay in a "dortoir" in the Rhône valley with an attached bar! This is a shared space with a bathroom and showers. A private room is available for a supplemental cost.
After breakfast the following morning we will head out from our base in the mountain valley, to a location that's fantastic for gaining snowshoe skills - learning how to move over the snow with ease. We will complete a small journey into the Swiss wilderness, with incredible mountain backdrops. Learning about what to do in an avalanche situation and how to avoid one will also form part of this day. Before returning to the accommodation, you will be given the opportunity to go sledging should you wish, and conditions allow. For those who prefer not to do this, a café is available for a warming hot chocolate or vin chaud. We'll then return to the hostel for dinner and to review the day.
For the final day, we will have an early start on the trail to ascend to the Grand-Saint-Bernard Monastery, where we will break for tea and food with the monks. Afterwards, we'll make a short journey across the Italian border, before returning to Switzerland and descending back to the valley. Back in Martigny, we will visit Barryland - home of the famous Saint Bernard dogs! You'll then be dropped back at the train station to make it home that evening.
Why Us?
Experience, Safety, and Fun
We've been running these trips for years. We have more than 20 years of experience running trips in the mountains and living in Switzerland. We are originally English but have lived here for many years. Our team is made up of UIAMLA International Mountain Leaders or UIAGM Mountain Guides.
We know and understand the locations, weather, and conditions and always look after you, showing you how to look after yourself in a mountain environment.
Our trips are all about meeting new people, having fun, laughter, and experiences together.
You leave this trip with skills, memories, and friends.
* Please note: We will make every effort to fulfil this itinerary but with high mountain trips, we must be adaptable to weather, snow, and avalanche conditions.
Included:
-Guides
-Specialist Equipment (Snow Shoes, Poles, Avalanche Gear)
-Accommodation in a shared room
-Dinner x 2
-Breakfast x2
-Entry to Barryland, home of the Saint Bernard Dogs
Not included: Drinks, Lunches.
Meeting point and start time: Martigny Train Station if you are on the train or flying in. If you are driving you'll get the address.
https://my-mountains.ch/trip/st-bernards-snow-shoe-pilgrimage-3-day-2-night/