Dieses Event ist beendet.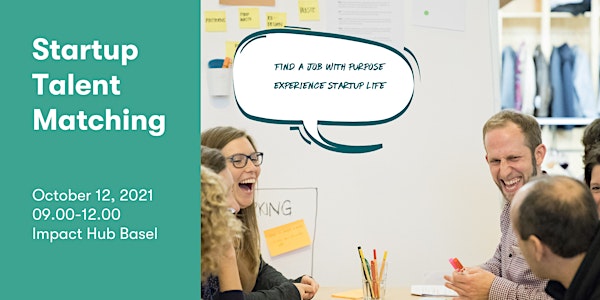 STARTUP TALENT MATCHING
Meet Impact Startups looking for co-founders, employees and volunteers
Zeit und Ort
Veranstaltungsort
Impact Hub Basel 274a Münchensteinerstrasse 4053 Basel Switzerland
Karte und Wegbeschreibung
Rückerstattungsrichtlinie
Kontaktieren Sie den Veranstalter, um eine Rückerstattung anzufordern.
Zu diesem Event
If you've always wanted to experience what it's like working at a startup and dream to pursue a meaningful career where what you do has an impact? Look no further!
On October 12, we will invite you to a job fair that is different. Innovative social and sustainable startups from Basel will pitch their businesses to you (what they do and what they offer). Afterwards you have the chance to brainstorm with two teams that you choose about a small task in our famous meet & greet format. 
Additionally, we offer a short CV check from 10am to 11am by the one and only Alberto Ribeiro Silveira.
Startups present: terrabiom, T2Riff, Mycrobez, VYN, Dedomena, College for a Better World, HelpnTrade
In a relaxed atmosphere we will provide some drinks and snacks for you and time to exchange.  
All you need to do is to register now. 
Who is this event for:
All job seekers, eg. committed students, expats, job changers, expats looking for a meaningful experience
This event is co-promoted and co-curated by our partner seniors@work.
*******
Please note that by registering and participating in this event, you agree to the recording of your appearance and/or your voice, which Verein Impact Hub Basel can publish in photos, videos and accompanying sound recordings via online and offline media and for marketing purposes.