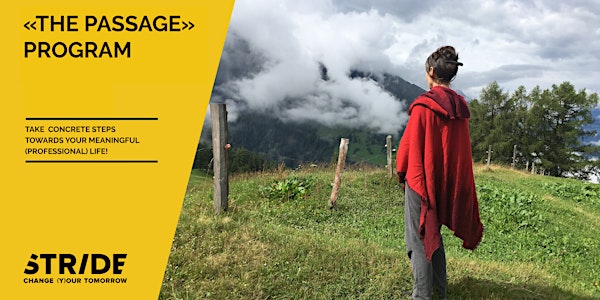 STRIDE | «The Passage» Program
«The Passage» Program
When and where
Location
Swiss Mountains in the powerful Ruinalta region (details after registration) Illanz Switzerland Switzerland
About this event
«The Passage» Program
TAKE CONCRETE STEPS TOWARDS YOUR MEANINGFUL (PROFESSIONAL) LIFE!
with Ruth Förster (Transition Companion for STRIDE &  dr. ruth förster * beratung & training) & Anaïs Sägesser (Co-Founder of STRIDE).
Are you seeking a more meaningful (professional) life? Would you like to re-connect to your vision and resources and gain more clarity in taking the next steps? Are you open to and enjoy sharing and supporting each other on the way? Are you unsure where or how your professional journey towards purpose at work and in life could go?
If you said "yes" to any of the above questions, «The Passage» is for you. This deep immersion in nature is a powerful way to open to new experiences and insights leaving everyday business behind. It will enable you to take the next concrete steps towards a meaningful (professional) life, by: 
Listening: For what burns my fire? What are my gifts to offer the world? What do I want to leave behind? What do I want to welcome?
Re-connecting deeply with (your) nature, find guidance & renewed energies for your professional and life pathway.
Based on your status quo, we follow these phases: 
PREPARATION:
Explore your status quo & meet your peers
DEEP IMMERSION IN NATURE (5 days, Ruinalta region):
Prepare: Explore your resources and gifts, face your challenges, prepare your time-out
Time-out: Just Be - 24h solo in nature, equipped only with the essentials while fasting with only water
Return: Harvest your insights & plan your next steps.
RETURN & INTEGRATION OF YOUR EXPERIENCE:
Take your next steps on your pathway.
STRIDE's experienced transition companions, Ruth and Anaïs will guide you and hold a safe space for your journey. Trustful companionship with your peers will support and inspire you on your journey.
At the end of «The Passage» you will:
have more clarity about your wishes, goals and possibilities for a meaningful career and your very own way of walking your path.
re-connect deeply with (your) nature, your vision and resources releasing energies for your pathway.
take concrete steps towards your meaningful (professional) life.
Give yourself time to engender ideal conditions for this personal journey and join «The Passage» now.
Any questions? Is «The Passage» right for you? Ruth will be happy to assist you. Feel free to contact her.
By registering for the event or purchasing a ticket I agree to the STRIDE - «The Passage» Program - Terms & Conditions 
Learn more about STRIDE - «The Passage» Program  here  
REGISTRATION/ PAYMENT
Application Deadline: 11 July 2021
Participation: Open to anyone who is fit for outdoor-activities & solitude. We take the right to reject an application after careful consideration.
You need to have attended at least one STRIDE CAREER COMPASS session or another coaching session with Ruth or Anaïs , before participating in «The Passage», 5 days Deep Immersion in Nature. If you have not attended any during the last year, you will be contacted for scheduling a coaching session. This is included in the overall program fee below (see terms & conditions).  
Registration fee: 100 CHF (non-refundable). 
By registering you will receive an email with a comprehensive personal information & liability form to fill-out and applicable prices, as follow, for you to choose from.
Prices (incl. 100 CHF registration fee): 
Regular:  1'850 CHF 
Reduced: 1'550 / 1'250 CHF  (these reflect our commitment to make this offer available also to those on smaller budgets) 
Special (for STRIDE CoLead Alumni & Stride Association members): 1'125 CHF 
Please find details about the services included in «The Passage» Brochure  here.